Extrait de The Greater Good le prochain album de The Good People
(composé de The Saint & Emskee) qui devrait sortir le 04/06.
Vu sur la chaine Youtube du poto PAKA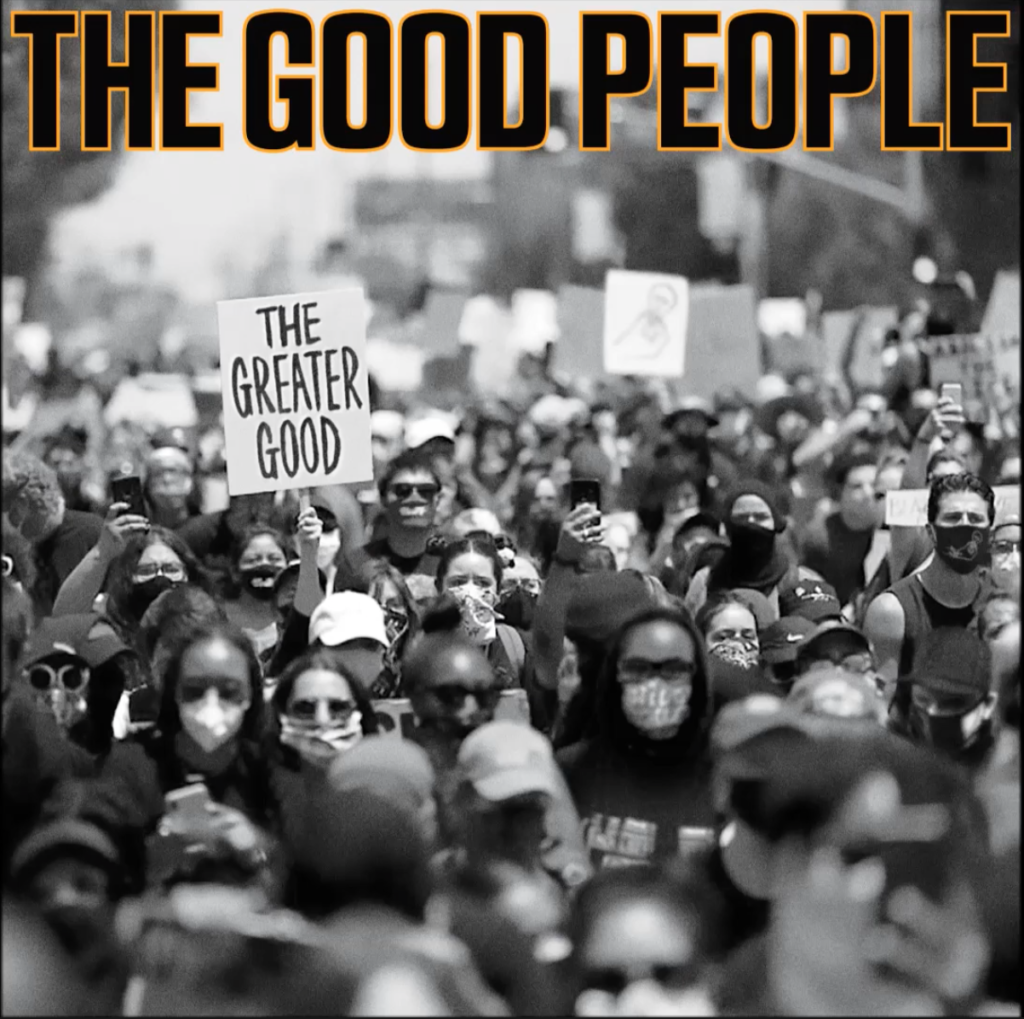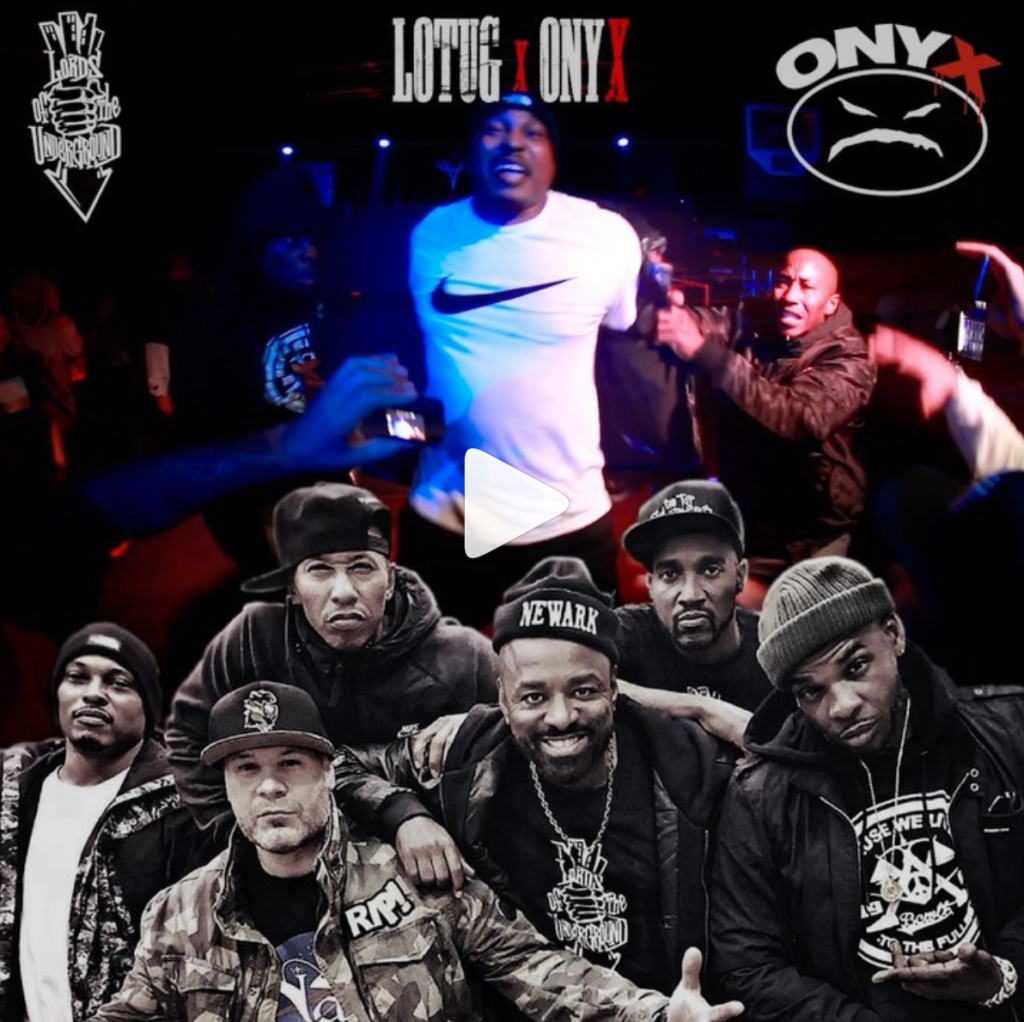 1er clip extrait du prochain album des Lords Of The Underground
intitulé So Legendary…coming soon!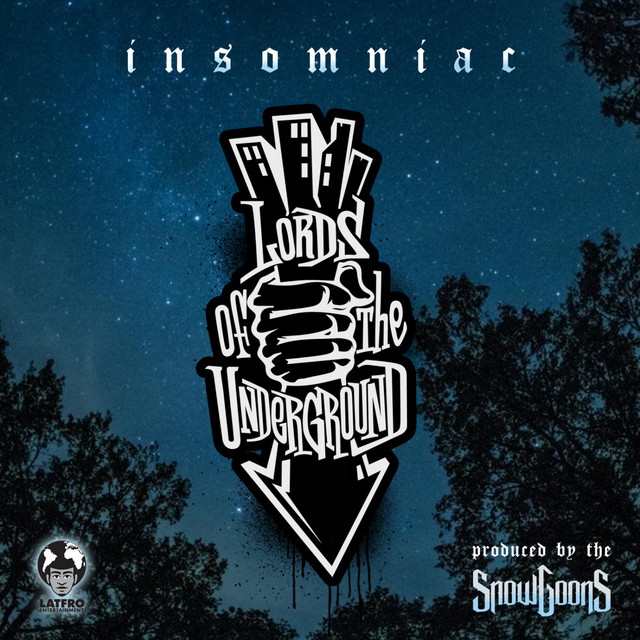 Nouveau clip des Lords Of The Underground extrait de leur
compilation LOTUG 20 The 20th Anniversary Collection, Vol. 1
actuellement dispo en téléchargement sur iTunes.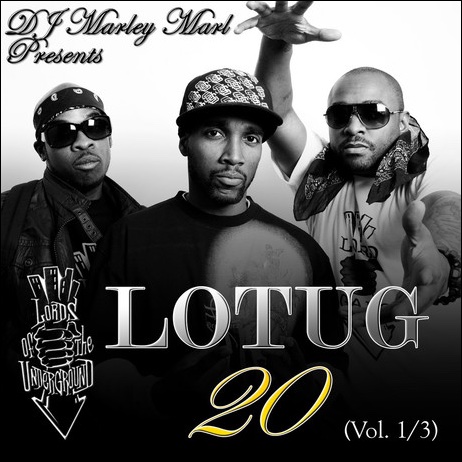 les Lords Of The Underground seront en concert
demain soir au Batofar à partir de 19h30.
Le concert affiche complet mais il reste une
douzaine de places en vente Yuticket.com!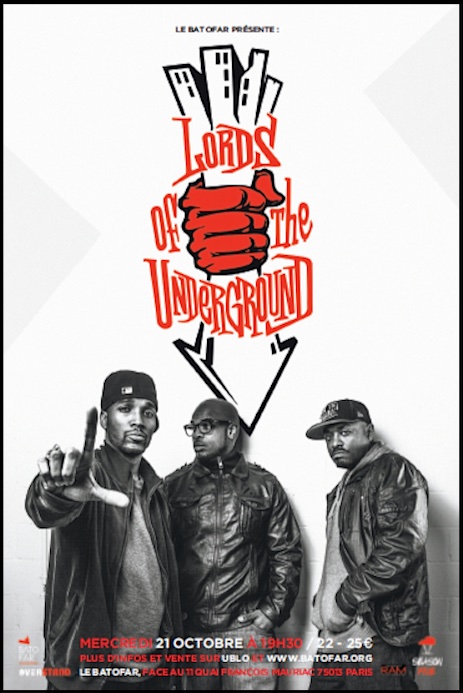 + D'INFOS SUR LE FACEBOOK EVENTS
Réservez votre soirée du mercredi 21 octobre,
les Lords Of The Underground seront en concert
au Batofar à partir de 19h30. Il reste encore quelques
places disponibles sur Digitick.com, Fnac.com.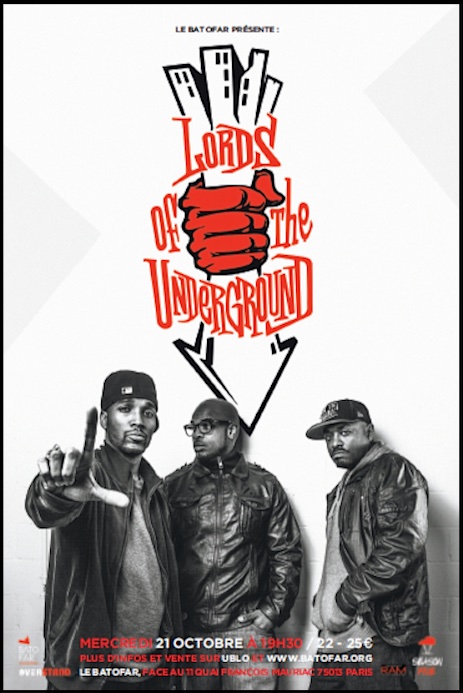 + D'INFOS SUR LE FACEBOOK EVENTS
Extrait de Marley Marl present LOTUG 20 Vol.1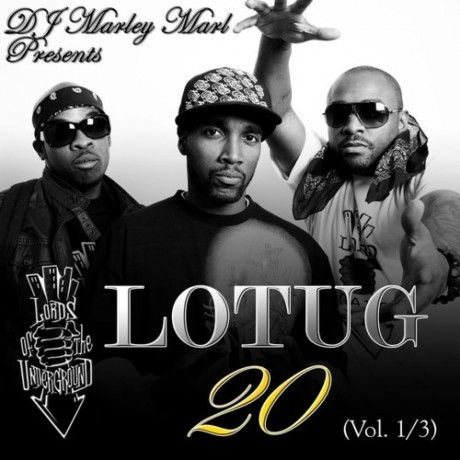 Les Lords Of The Underground s'apprêtent bientôt à fêter
leurs 20 ans de carrière avec la sortie d'une série de 3 EP
entièrement produits par le légendaire Marley Marl.
En attendant ils seront sur la scène du Batofar le 21/11
(pour plus d'infos consultez le Facebook events).
SUPPORT!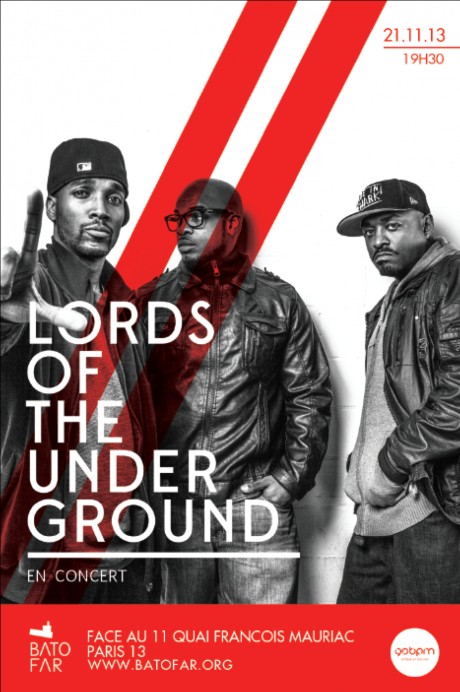 En attendant voici le clip de leur dernier single Bumpin Loud :
Published

9th Sep 2010

by

Tonton Steph

under

RAP
Nouveau morceau des L.O.T.U.G produit par 9th Wonder,
apparemment extrait d'un nouvel album à venir.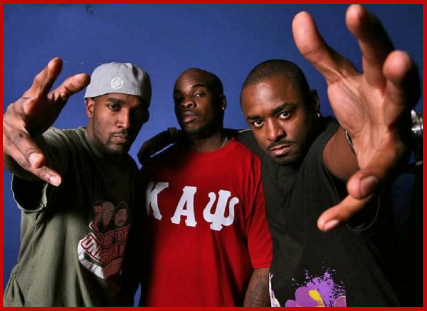 LORDS OF THE UNDERGROUND
« MISTAKES« 
(PROD BY 9TH WONDER)
Yo !
Vendredi 17 juin la soirée désormais culte Golden Years of Hip Hop fêtera ses 11 ANS !
Pour cette occasion une équipe de 11 dj's parmi les meilleurs de la capitale sera sélectionnée !
11 ANS de soirées Hip Hop dans les meilleures salles de la capitale telles que le Bataclan, le Divan du monde, le Nouveau Casino , les Coulisses, le Comedy Club, le Djoon, le Bizz'art, Les Étoiles …
11 ANS de warm up pour Krs One, Pete Rock & Cl Smooth, Dilated Peoples, Lords Of The Underground, Keith Murray, Naughty by Nature, Onyx, Pharoahe Monch, Heltah Skeltah, Moob Deep, GZA, Jeru the Damaja & Ill Bill, Sadat X & Diamond d, Prince Paul & Freddie Foxx … et des mixs aux cotés de Statik Selecta, Dj Muggs, Dj Evil Dee …
11 ANS à vous faire danser toute la nuit avec les meilleurs son Rap, R'N'B & New Jack Swing!
11 ANS que Golden Years Of Hip Hop existe et ce grâce à vous,
B-Boys, B-Girls, Dj's, Clubbers, Amoureux de musique …
Avec aux platines:
JUST DIZLE – UNCLE T – DJ JIM – YUGSON HAWKS – FREDDY JAY – DJ KOZI – DJ LIL – DJ LILPOP – DJ TREM – DJ LOUD – VENOM .
SUPPORT!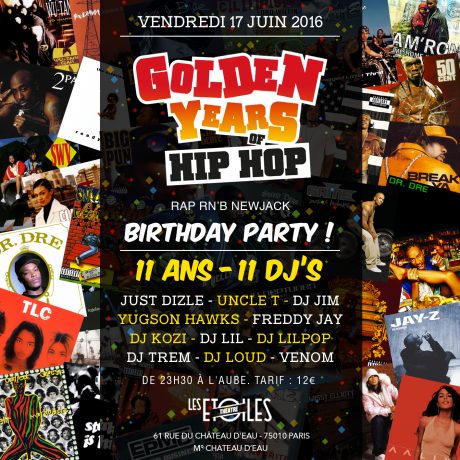 + D'INFOS SUR LE FACEBOOK EVENT
Voici une vidéo de Treach des Naughty By Nature qui balance
une très bonne version de « O.P.P » dans les studios de l'émission
diffusé sur Sirius XM pour récolter des dons afin d'aider
Kool Herc qui est actuellement hospitalisé.
Pour l'occaz il est entouré par DoitAll des Lords Of The Underground,
Kangol Kid d' UTFO, Lil' Fame de M.O.P., Dres de Black SHeep
et JDL des Cold Crush Brothers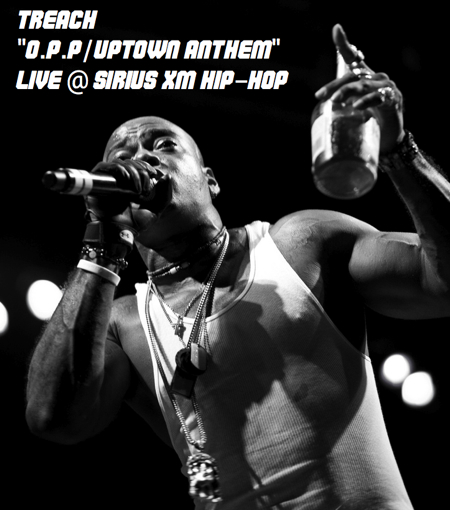 Evidence « Weather Or Not » – CD/LP
Rapsody « Laila's Wisdom » – CD/LP
Pete Flux & Parental « Infinite Growth » – LP
Planet Asia « The Golden Buddha » – CD/LP
Venom « Ruff N Tuff » – CD/K7
Apollo Brown & Planet Asia « Anchovies » – CD/LP
Verbal Kent & Superior « Half My Life » – CD
Dred Scott « Breakin' Combs » – LP
Narcotik « Intro to The Central » – CD
M.F. DOOM « Operation: Doomsday »
Box 7x45t en couleur
GZA « Liquid Swords: The Singles Collection »
Box 4x45t – Boxset + Print
L'Orange « The Ordinary Man » – CD/LP
Action Bronson « Blue Chips 7000 » – CD/LP
Tyler The Creator – Scum Fuck Flower Boy – CD/LP
Lords of the Underground « Here Come the Lords »
25th Anniversary Edition 2xLP – Green Vinyl
The Notorious B.I.G. « Big Poppa »
12″ – White Vinyl
Damu The Fudgemunk & Raw Poetic « The Reflecting Sea »
LP – Orange & Black Vinyl
Stik Figa « Central Standard Time » – LP
Limited Colored Vinyl
Y Society – Travel At Your Own Pace: Vocal & Instrumental Versions – CD/LP
Thanks Dodo & Laura!
Le #6 de la nouvelle formule du magazine iHH est actuellement
disponible chez tous les marchands de journaux, Relay™.
SUPPORT!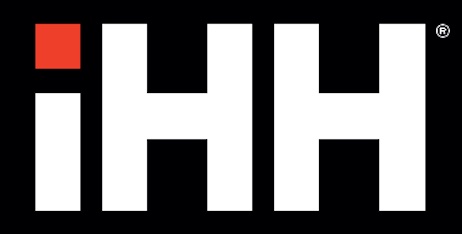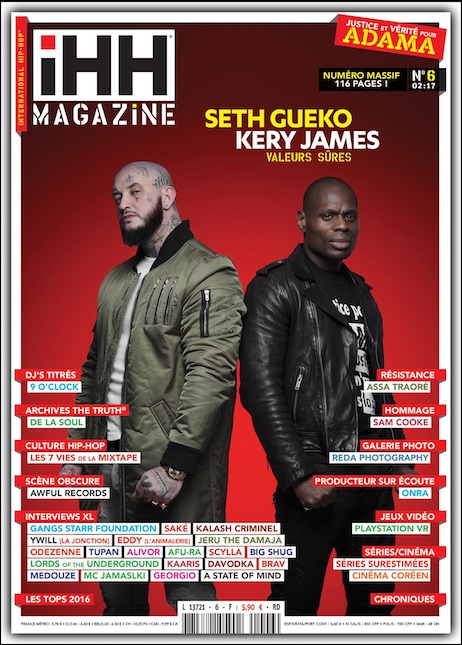 SOMMAIRE iHH™ MAGAZINE #6
INTERVIEWS XL
KERY JAMES
SETH GUEKO
GANG STARR FOUNDATION
SAKÉ
KALASH CRIMINEL
JERU THE DAMAJA
YWILL [LA JONCTION]
ODEZENNE
TUPAN
BIG SHUG
EDDY [L'ANIMALERIE]
SCYLLA
LORDS OF THE UNDERGROUND
GEORGIO
A STATE OF MIND
MEDOUZE
AFU-RA
BRAV
ALIVOR
MC JAMALSKI
DAVODKA
KAARIS
ARCHIVE THE TRUTH®
DE LA SOUL
GALERIE PHOTO
REDA PHOTOGRAPHY
RÉSISTANCES / LUTTES
ASSA TRAORÉ [JUSTICE ET VÉRITÉ POUR ADAMA]
DJ's TITRÉS
9 O'CLOCK
HOMMAGE
SAM COOKE
PHOTO-RÉSISTANCE
CRISE DES RÉFUGIÉS
PRODUCTEUR SUR ÉCOUTE
ONRA
CULTURE HIP-HOP
LES 7 VIES DE LA MIXTAPE
SCÈNE OBSCURE
AWFUL RECORDS
SÉRIES TV / CINÉMA
LES SÉRIES SURESTIMÉES / CINÉMA CORÉEN
JEUX VIDÉO
PLAYSTATION VR
CHRONIQUES + TOPS
Al Tariq (Beatnuts) vient de monter un label appelé Big City Muzik
sur lequel il vient de signer un duo formé de Faze2 & Big Mont.
Comme carte de visite ils viennent de se réaproprier le classic
Chief Rocka des Lords Of The Underground.