Après un 1er extrait mis en ligne hier, Evidence vient d'annoncer
la sortie le 25/06 de son nouvel album intitulé Unlearning Vol.1
Il est dispo en précommande en CD, Vinyl & K7 sur Rhymesayers.com.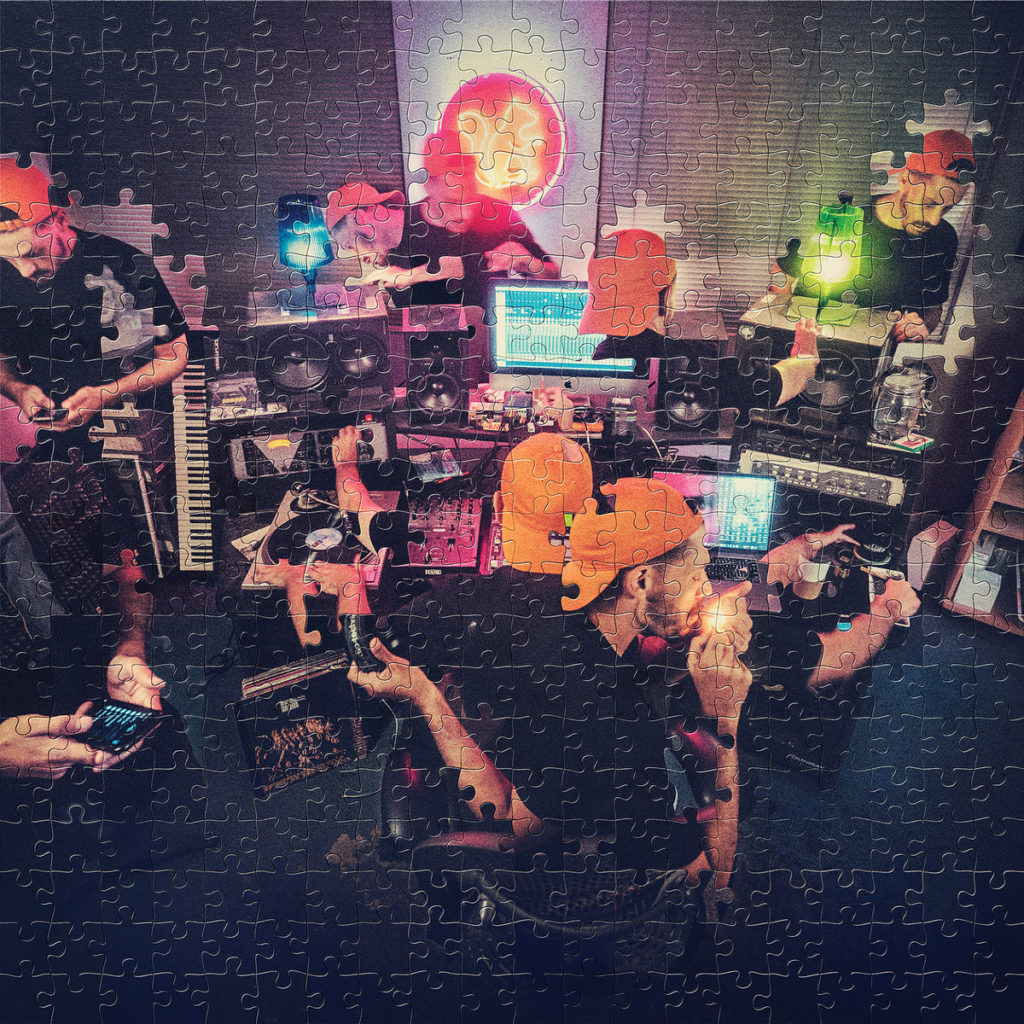 Tracklist :
1- Better You
2- Start The Day With A Beat
3-Sharks Smell Blood
4-Pardon Me
5-All Of That Said (feat. Boldy James)
6-Won't Give Up The Danger (feat. Murkage Dave)
7-Moving On Up (feat. Conway the Machine)
8-Talking To The Audience
9-All Money 1983
10-Pray With An A (feat. Navy Blue)
11-Lost In Time (Park Jams)
12-Delay The Issue (feat. Fly Anakin)
13-Taylor Made Suit
14-Where We Going From Here…
2ème extrait de La Maquina, le nouveau
projet de Conway The Machine qui sortira le 16/04.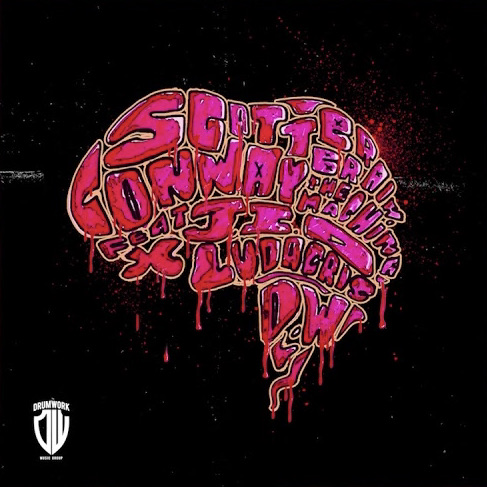 Ci-dessous cover + tracklist de La Maquina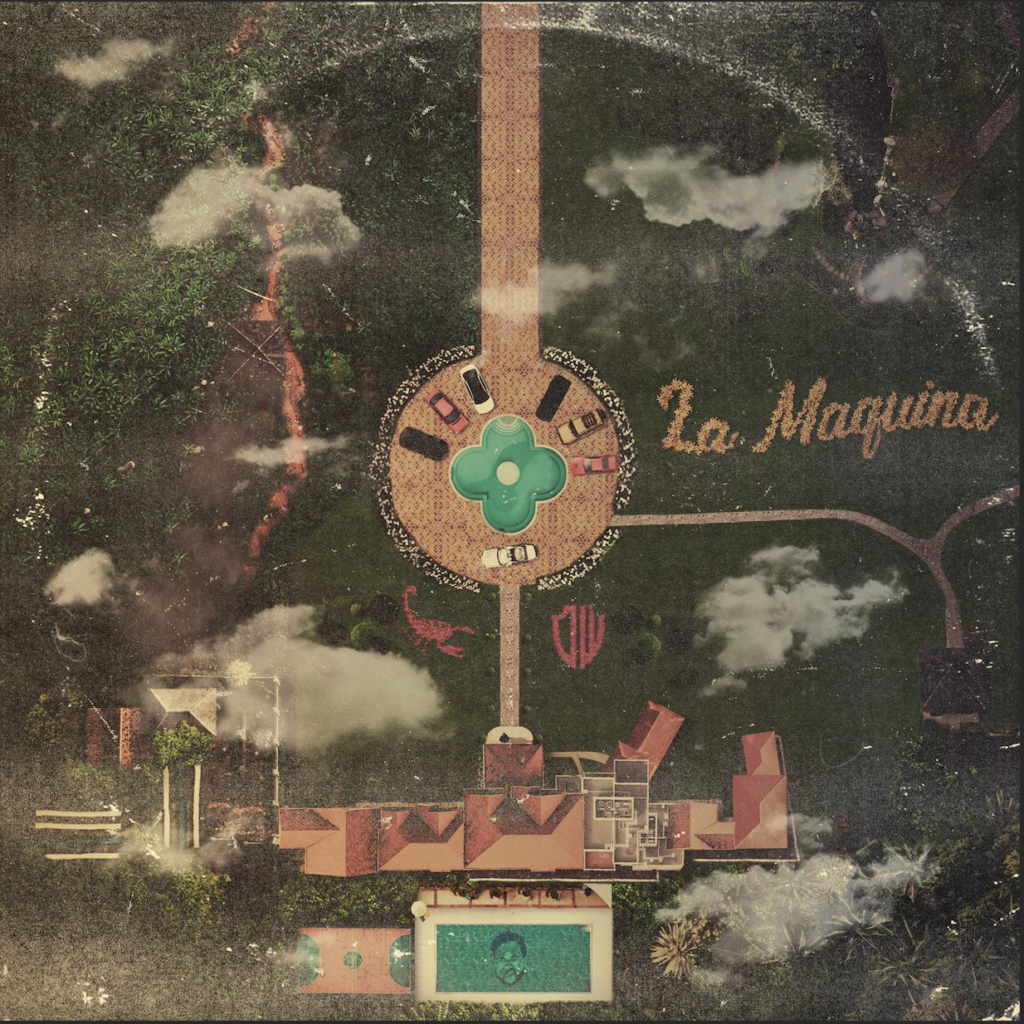 Bruiser Brody (prod. J.R. Swift)
630 Tip Off (prod. Bangladesh)
Blood Roses f. Jae Skeese (prod. Cardiak)
Clarity (prod. Don Cannon)
KD (prod. Murda Beatz)
200 Pies f. 2 Chainz (prod. The Alchemist)
Sister Abigail f. Jae Skeese & 7xvethegenius (prod. J.R. Swift)
Grace [ft. Jae Skeese] (prod. Cosmo Beats)
Scatter Brain f. J.I.D & Ludacris (prod. Don Cannon)
Had to Hustle f. El Camino (prod. Cosmo Beats)
S.E. Gang f. Westside Gunn & Benny the Butcher (prod. Daringer)
Le nouvel album de Gang Starr a enfin un titre et une date de sortie!
Intitulé One Of The Best Yet, il sera dispo à partir du 01/11/19
en Digital sur AppleMusic.com.
À noter qu'une édition double LP sera dispo le 06/12 sur FatBeats.com
ainsi qu'une édition CD le 15/11 toujours sur FatBeats.com.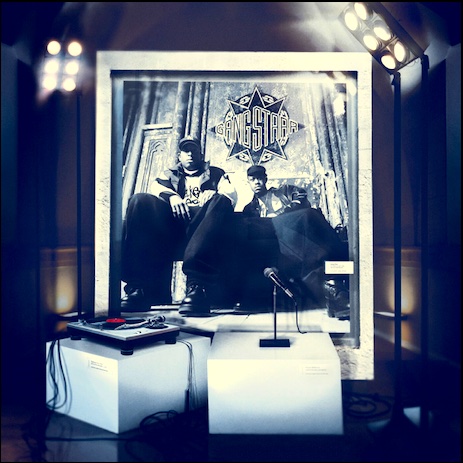 Comme une bonne nouvelle n'arrive jamais seule…voici le 2ème single :
En attendant le 01/11 et pour se mettre l'eau à la bouche voici le tracklsit :
1) 'The Sure Shot (Intro)'
2) 'Lights Out' (Feat. M.O.P.)
3) 'Bad Name'
4) 'Hit Man' (Feat. Q-Tip)
5) 'What's Real' (Feat. Group Home & Royce 5'9″)
6) 'Keith Casim Elam' (Interlude)
7) 'From A Distance' (Feat. Jeru The Damaja)
8) 'Family And Loyalty' (Feat. J. Cole)
9) 'Get Together' (Feat. Ne-Yo & Nitty Scott)
10) 'NYGz/GS 183rd' (Interlude)
11) 'So Many Rappers'
12) 'Business Or Art' (Feat. Talib Kweli)
13) 'Bring It Back Here'
14) 'One Of The Best Yet (Big Shug Interlude)'
15) 'Take Flight (Militia, Pt. 4)' (Feat. Big Shug & Freddie Foxxx0
16) 'Bless the Mic'
GURU R.I.P.
L'info vient de tomber…le prochain projet du label Effiscienz
sortira le 22/11/19 et sera un EP commun du rappeur Eto
et du beatmaker Mil Beats.
Un 1er single devrait arriver d'ici peu…
Meth Lab II : The Lithium le nouveau projet de Method Man 
sortira le 13/10/18. Après un 1er extrait (voir ici) voici la cover
et le tracklist sur lequel on retrouve Raekwon, Snoop Dogg,
Hanz On, Cappadonna, Street Life, Sheek Louch, Redman.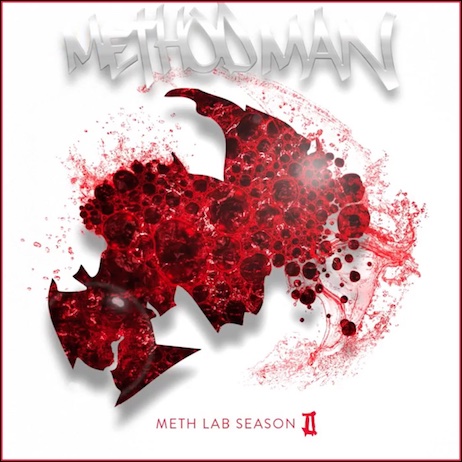 Tracklist :
"The Pilot (Intro)"
"Kill Different" (Hanz On & Raekwon)
"Eastside" (Intel & Snoop Dogg)
Commercial Break (Thotti Gotti)
"Grand Prix" (Method Man)
Commercial Break (Impractical Jokers Pranks)
"Drunk Tunes" (Noreaga, Joe Young, Mall G, Jessica Lee Lamberti, Deanna Hunt)
"Emergency Forecast" (Thotti Gotti Weather Report)
"Wild Cats" (Redman, Streetlife & Hanz On)
"The Lab" (Spank)
"Bridge Boys" (Rock of Heltah Skeltah & Kash Varrazano)
"Back Blockz" (Freak, Cardi Express & Youngin)
"Ronins" (Hanz On, Cappadonna & Masta Killa)
Commercial Break (Impractical Jokes "Torture")
"Two More Mins" (Method Man)
Commercial Break (Thotti Gotti "Pussy On Soundcloud")
"S.I. vs Everybody" (Apocalipps & Iron Mike)
"Lithium" (Sheek Louch & Hanz On)
"P.L.O. (Remix)" (Hanz On, Hue Hef, Streetlife & Lounge Lo)
"Killing The Game" (Pretty Blanco)
"Yo" (Hanz On, Streetlife & Apocalipps)
"Outro"
1er clip extrait de Bad Decisions le nouvel album de Termanology
qui sortira le 10/08 (dispo en précommande sur iTunes).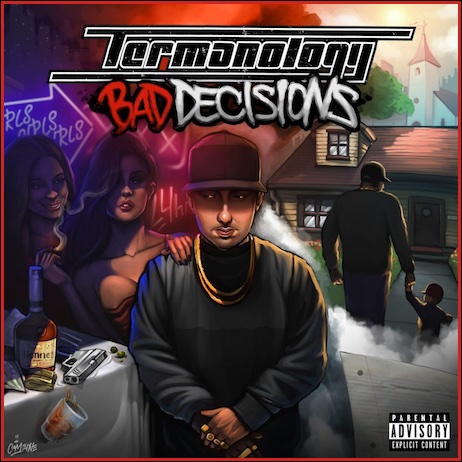 Ci-dessous le tracklist de l'album :
Bad Decisions
1. Take 'Em Back
Prod By Statik Seketah
2. Crack Kills
Prod By Shortfyuz
3. Guess Again
Prod By Psycho Les of (The Beatnuts)
4. Passport Kingz
Ft (Raekwon)
Prod By Statik selektah
5. Termanator & The Machine
Ft (Conway)
Prod By Daringer
6. Blac Chyna
Ft (Millyz)
Prod By Lex With The Records
7. No Competition
Ft (ANoyd)
Prod By Dame Grease
8. Are You Sure?
Prod By Erick Sermon
9. Kaleidoscope
Ft (Smif-N-Wessun)
Prod By Daringer
10. Vegas
Prod By Loman
11. Bag It Up
Ft (Benny)
Prod By Termanology
12. Cognac Coladas
Ft (Willie The Kid & Crimeapple)
Prod By Termanology
13. 100 Jewelz (Part 3)
Prod By Lex With The Records
14. Lonely At The Top
Prod By Termanology
1er extrait du prochain album d'Onyx intitulé Black Rock
qui sortira le 16/02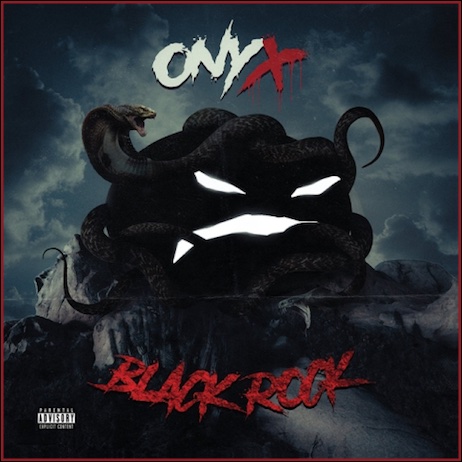 Black Rock tracklist :
1. 'Onyx!!'
2. 'Black Rock' feat. DJ Nelson
3. 'What U Want From Me'
4. 'Blinded By The Light' feat. Optimus
5. I'ma Fuckin Rockstar' feat. Skyzoo
6. 'Lighters Intro'
7. 'Lighters'
8. 'Greatest Day' feat. Optimus
9. 'O.D.' feat. R.A. The Rugged Man
10. 'Love Is A Gun'
11. 'Point Em Out'
12. 'Chasing The Devil' feat. Optimus, Sickflow, Snak The Ripper
Le poto Venom (Marvel Records) vient d'annoncer la sortie
aujourd'hui même de son nouvel album intitulé Ruff N Tuff.
Une fois de plus la pochette est signé Melki que les amateurs
de VHS & films d'horreurs 80's connaissent bien!
Au programme de ce nouvel album dans lequel Venom
prouve une nouvelle fois ses talents de beatmaker on retrouve :
Camp Lo, M E D (Stone Throw), Rah Digga, Shabaam Sahdeeq,
Ras Kass, Conway, The Legion, Shadez Of Brooklyn,
Marquee, Skanks & Gstats (of Bankai Fam), F.O.D,
Nolan The Ninja & Stacy Epps.
Ruff N Tuff est en vente en Digital & CD sur Bandcamp.
FULL SUPPORT!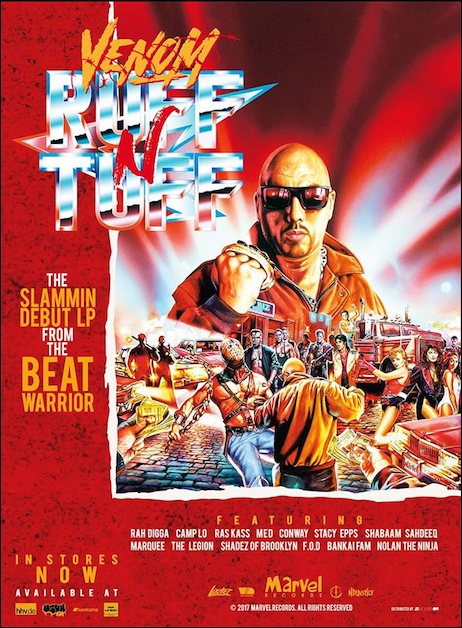 Tracklist :
01 – First Hit (Opening Credits)
02 – Face Off feat. The Legion
03 – The Revenge feat. MED
04 – Ready For Action feat. Camp Lo
05 – Crack Down feat. Shabaam Sahdeeq & Ras Kass
06 – Back In Position Remix feat Skanks (of Bankai Fam)
07 – Cut The Line feat. Marquee
08 – The Showdown (No Retreat, No Surrender)
09 – Chain Ruckus feat. Nolan the Ninja
10 – Ruff And Tuff feat. Rah Digga
11 – Buleseye feat. Conway
12 -Game Of Survival feat. Gstats (of bankai Fam)
13 – Beat Warrior feat. Stacy Epps
14 – Too Tuff To Die feat. F.O.D
15 – Wrong Time feat. Shadez Of Brooklyn
16 – On His Own (End Title)
Annoncé depuis 2 ans, The Shepard l'album posthume
de Killa Sha (RiP) est enfin dispo en téléchargement sur iTunes.
Son album God Walk On Water sorti en 2007 reste pour moi
un classic complètement sous estimé et l'arrivée de The Shepard 
devrait réjouir tous ceux qui appréciaient ce MC parti trop tôt!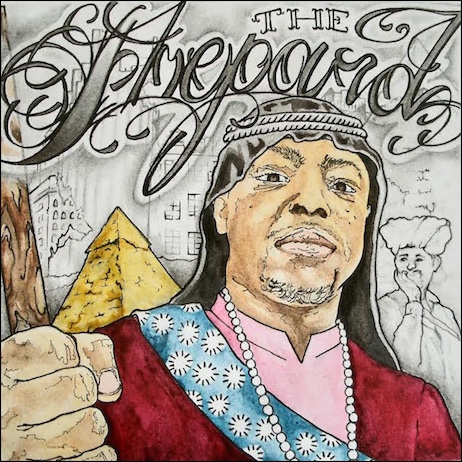 Tracklist :
1 Full Command Feat G.O.D 3, Foul Monday, Ruc & Tragedy Khadafi
2 Black and Understanding
3 Give It Up
4 Pressure Up Feat. Tragedy Khadafi
5 Tell Me
6 1712
7 Stop Hatin
8 Work It Out
9 Keep the Faith
10 Cash Remix
RIP KILLA SHA
FreEDOm le nouvel album du vétéran de Boston Edo.G 
sortira le 26/09/17 en K7, vinyl & CD chez RedLine Music.
A noter que la version CD contiendra un documentaire DVD
intitulé I Gotta Have It sur la carrière de Edo.G
dont vous pouvez voir le trailer ci-dessous!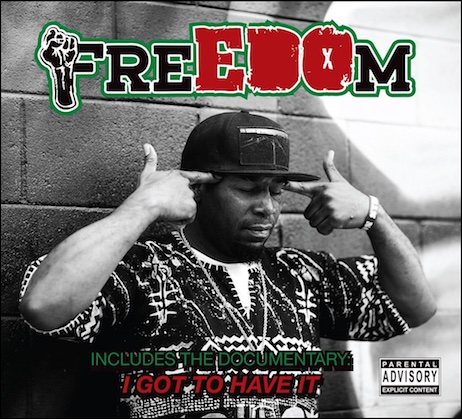 Tracklist :
1. Beast (Produced by Torchbars)
2. Brick Buildings (Produced by Kelz with tha heat)
3. Hustle/Gamble (Produced by Roycee)
4. FreEDOm Featuring Pearl Gates
(Produced by TorchBars)
5. Hate Featuring Marcela Cruz (Vocals) & Ethan Black (Violin)
(Produced by Torchbars)
6. Boom (Produced by Sir Williams)
7. It Is Featuring Da Bulldogs
(Produced by Kelz with tha heat)
8. Smoke Featuring Masta Ace
(Produced By Dj Science)
9 She had so much soul (Produced by Geronimo X)
10. Blues Featuring Big Rush
(Produced by Geronimo X)
11. Left Behind (Produced by Sirplus)
CD & CASSETTE BONUS TRACK
12. Keeps Calling Me Featuring Al Copeland
(Produced by Kelz with tha heat)
8 ans après « Musikyo » et de nombreux projets à concept C'est avec fierté que je vous présente mon 2ème album de producteur « Genkidama » en Triple Vinyl « Gatefold »(Edition limitée) Exclusivement produit Avec la légendaire SP 1200 !
Seulement en Pre Commande ici!
Featuring : Ruste Juxx / Bishop Lamont/ Big Twins/ Conway/ Planet Asia/ Termanalogy/ Skyzoo/ Reks /Edo G / Planet Asia/ Shyheim / Krondon /Vast Aire (of Cannibal Ox) / Supreme(of Representativz) /Steele (of Smif N Wessun) /Shabaam Sahdeeq /Homeboy Sandman /C – Rayz Walz/ Rim Da Villins / Illa Noyz /Chris Spencer (Vic Spencer + Chris Crack) / Ran Reed / Innocent? / Realio Sparkzwell/ Berreta 9 (of Killarmy)/ Poison Pen/ Block Mccloud /Pressha Dinero / Vvs Verbal /Louie Skaggs /Dan Jah / Clever One (of Da Buze Bruvaz) /Vizar Rancarr (Skanks & Kyo) / Haile Ali,Madman (of F.O.D)/ Milez Grimez /One Click Bang /Mélanie Rutherford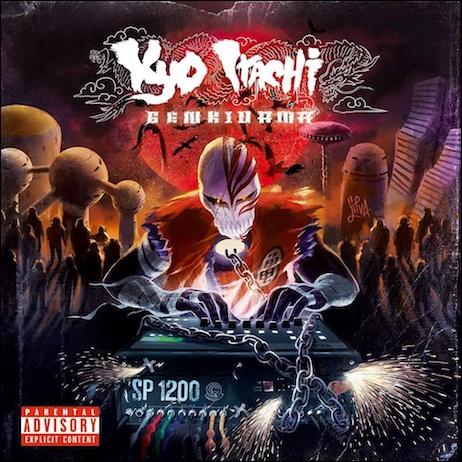 1er clip extrait du EP commun de Molecules (The Legion)
et de Showbiz intitulé The Bronx Tale qui sortira le 19/05
et qui contiendra 6 morceaux + 6 instrus.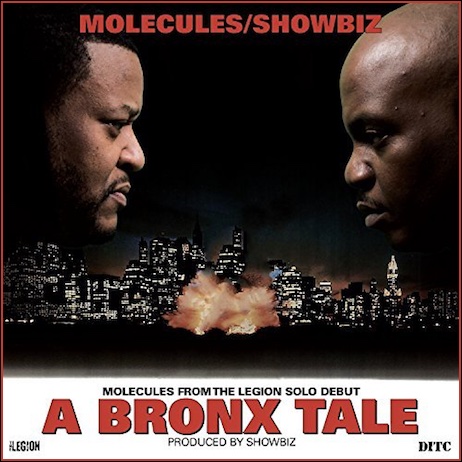 Tracklist :
1 Bad Guy
2 Good Life
3 Hardcore
4 Heist
5 Jungle
6 Methadone Rap
7 Bad Guy (Instrumental)
8 Good Life (Instrumental)
9 Hardcore (Instrumental)
10 Heist (Instrumental)
11 Jungle (Instrumental)
12 Methadone Rap (Instrumental)
1er single de l'album Party Discipline du beatmaker français
 Junior Makhno qui sortira le 5 mai en digital, CD, vinyle et K7.
On retrouvera dessus Ill Bill, Goretex, Vic Spencer, 
Chief Kamachi, Dirt Platoon, Diabolic, Esoteric & Vakill.
Précommande dispo sur le Bandcamp d'Effiscienz.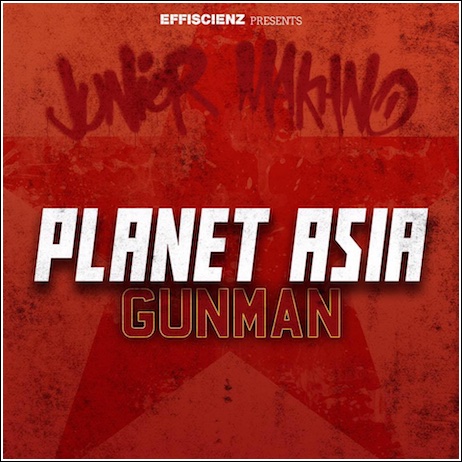 Ci-dessous la cover + tracklist :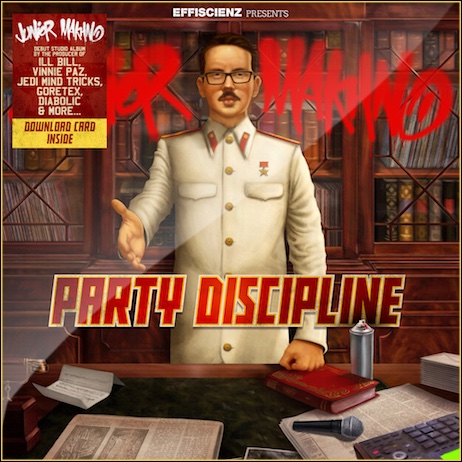 Tracklist :
01 Call To Arms (cuts by Dj Djaz)
02 Reversal Of Fortune (feat. Ill Bill)
03 Stay Of Execution (feat. Goretex)
04 Death Wish (feat. Lateb)
05 Code Of The Guru (feat. Chief Kamachi) (cuts by Dj Djaz)
06 Psychedelic Influence (feat. Dirt Platoon) (cuts by Dj Nix'On)
07 Take The Power
08 Bodybag Mentality (feat. Vic Spencer)
09 Brainwash (feat. Vendetta Kingz)
10 The Coup
11 Gunman (feat. Planet Asia)
12 The Same Tale Told (feat. IDE & Alucard)
13 Project Frontline
14 Show Discipline (feat. Diabolic, Esoteric & Vakill)
Bonne nouvelle pour tous les kiffeurs de The Alchemist,
le 4ème volume de sa série Rappers's Best Friend
vient de sortir et vous pouvez le trouver en édition CD & vinyl
sur son site Chemystriset.com.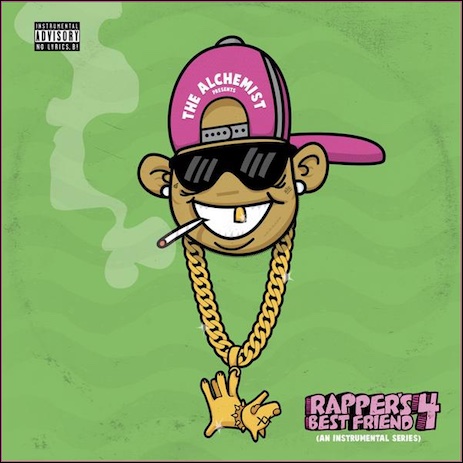 -TRACKLIST-
GENESIS & OMEGA
JABRONI
TERRY
WHITE LINES
LIKE FATHER LIKE SON PT. 2
OUT THE FRAME
FETTI
BIG LEAGUE CHEW
KNOW YA WRONG
GNARLY DUDE
COBB
DISAPPEARING INK
LAST SHALL BE FIRST
SEIZE POWER
AMEN
AJAX
Après le projet avec Conway, EFFISCIENZ a vraiment décidé de frapper fort en annonçant la sortie d'un EP avec le rappeur de Buffalo Westside Gunn.
Intitulé « Riots On Fashion Avenue », l'opus comprendra 6 titres dont 2 qui seront revisités par Mil qui c'est auto-remixé, puisqu'il signe l'intégralité des productions comme il avait pu le faire pour l'excellent « Bullet ».
Cette sortie est prévue pour le 10 février sur toutes les plateformes digitales, mais aussi en vinyle et un CD en collaboration avec le site FRESH NEWS.
Pour les versions physiques, il s'agit d'une série limitée à 500 copies pour chaque support et les précommandes seront lancés le 27 janvier.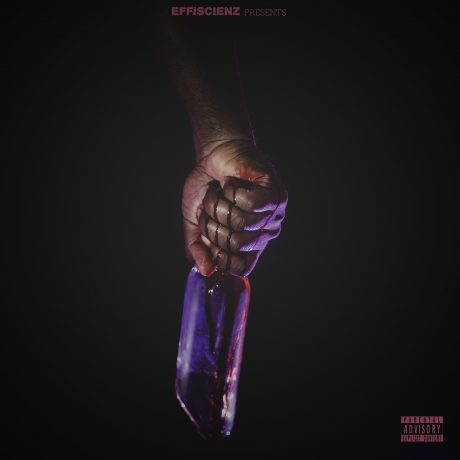 Tracklist :
01 Fly Shit (Intro)
02 Brains Flew By
03 Don't Trust A Soul
04 Brains Flew By (1964 version)
05 Don't Trust A Soul (7th Avenue version)
06 No Face Dealer (Outro) feat. Dj Djaz
01 Fly Shit (instrumental)
02 Brains Flew By (instrumental)
03 Don't Trust A Soul (instrumental)
04 Brains Flew By (1964 version) (instrumental)
05 Don't Trust A Soul (7th Avenue version) (instrumental)
06 No Face Dealer (instrumental)
Ci-dessous la version CD du EP :