On ne présente plus Get Busy qui a été LE fanzine rap ultime
durant les années 90 avant de devenir entre 2001 & 2002
un magazine moins axé rap et plus ouvert aux sujets de société
(mais toujours interdit aux batards!).
A défaut de ne plus voir Get Busy dans nos kiosques
on le retrouve depuis quelques mois sous une « forme » radio
avec le Get Busy Show animé par Sear, Real Muzul,
Eros, David Jhely & Freeworker (90 bpm).
A partir de septembre on devrait retrouver le Get Busy Show
de façons hebdomadaire et on ne va pas s'en plaindre!
SUPPORT!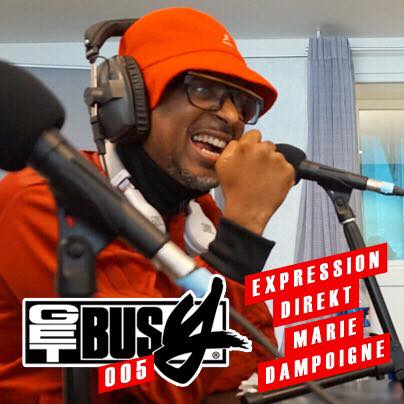 Pour les anglophones et les passionnés de culture Hip Hop
je vous recommande vivement de jeter un coup d'oeil à
l'émission Drink Champs de N.O.R.E. & DJ EFN.
Animée par un N.O.R.E. enthousiaste l'émission se passe
autours de bonnes bouteilles de champagne et de quelques
joints de weed dans une ambiance bon enfant et laisse le temps
aux invités de parler de leur carrière (l'émission dure 2H!).
C'est bourré d'anecdotes incroyables, bref…A Must See!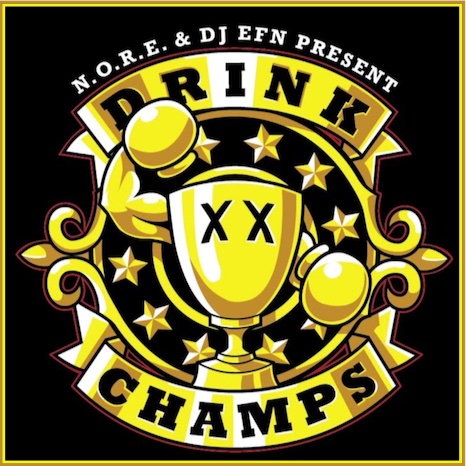 With…Brand Nubian!
With…DJ Premier & Pete Rock!
With…Duck Down!
With…A Tribe Called Quest!
With…Havoc!
With…Raekwon!
Je voulais vous signaler la sortie du livre de Pierre-Jean Cléraux
 New York State Of Mind : une anthologie du rap new-yorkais
aux éditions Le Mot Qui Reste. De sa naissance au milieu des années 70
jusqu'à nos jours, le livre dresse à travers 100 albums une synthèse
du rap new-yorkais avec ses codes, ses particularités
et sa dimension historique.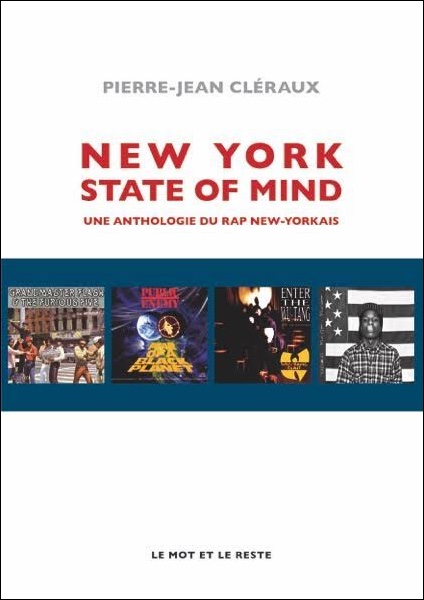 Dispo chez Gibert Joseph et dans toutes les bonnes librairies!
Je n'avais pas eu le temps de les poster avant donc voici les derniers
n° de la série Just One Record qui donne l'occasion aux artistes
de revenir sur 1 album qui les a marqué et d'expliquer leur choix.
SUPPORT!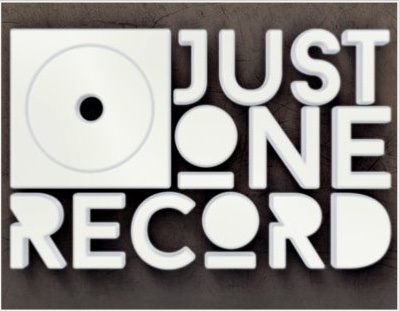 Nouveau bouquin consacré au Hip Hop réalisé par l'anglais DJ Semtex
et préfacé par Chuck D. On y retrouve ses divers interviews ainsi
que des photos signées Martha Cooper, Henry Chalfant,
Eddie Otchere, Normski, Janette Beckman, Chi Modu,
Nabil Elderkin, Mark Humphrey, Armen.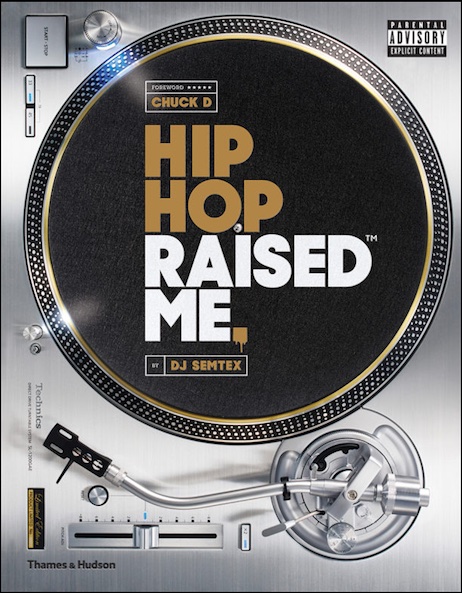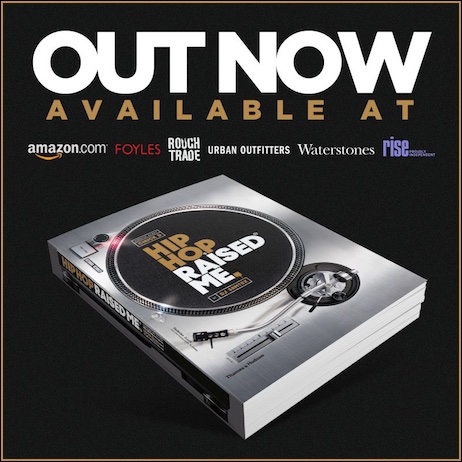 DISPO POUR £26 (29€) SUR AMAZON.CO.UK
Thanks au poto Armen pour l'info!
Smells Like Hip Hop présente la soirée Back To The Roots
qui aura lieu samedi 08/10 au LUST (32 quai d'Austerlitz)
avec en invités de marque Stretch & Bobbito (NYC). 
La soirée sera suivie le dimanche 09/10 de plusieurs événements
qui se dérouleront à LA PLACE (10 passage de La Canopée) avec
entre autre une projection du documentaire de Stretch & Bobbito
Radio That Changed Lives, d'une JAM avec Sidney, Solo
& DJ Phantom ainsi que d'une rencontre animée par Thibeau
De Longeville entre Sidney, Dee Nasty, Stretch & Bobbito.
Bref événement à ne pas louper pour les amoureux de cette culture!
SUPPORT!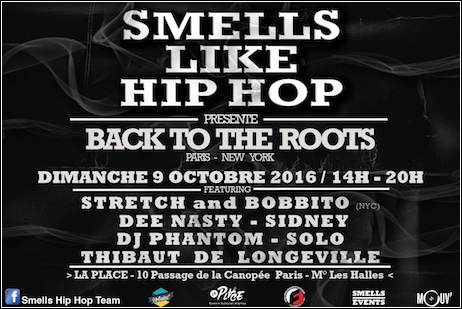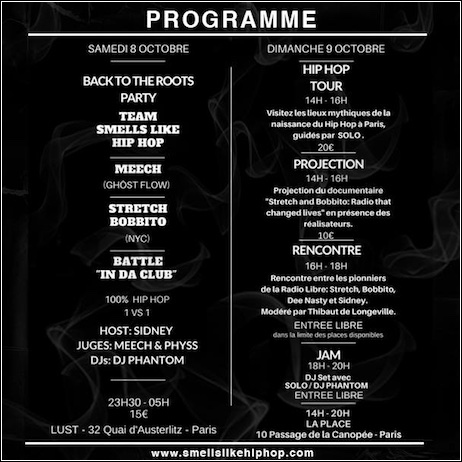 + D'INFOS SUR SMELLLIKEHIPHOP.COM
Nouvel épisode de la série Just One Record qui propose à
un invité de choisir son disque de chevet.
Dans cet EP #57 c'est le poto Venom qui nous parle
de l'album Wrath of the Math de Jeru.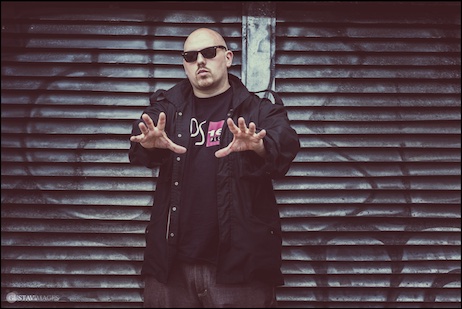 Biz Markie a marqué l'histoire du rap et son 1er album Goin'Off
sorti en 1988 produit par le légendaire Marley Marl est aujourd'hui
considéré comme un classique du genre.
Membre du Juice Crew, reconnu pour ses talents de beatboxer
et son ton décalé, il a apporté au rap une bonne dose d'humour
qui reste encore aujourd'hui une denrée rare dans le rap game.
Pour ceux qui ne connaissent pas le bonhomme voici un mini doc.
de 30mn qui revient sur sa carrière et son impact sur cette culture.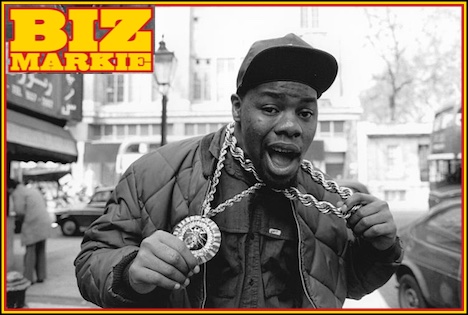 Au sommaire de ce nouveau numéro :
INTERVIEWS XL 
DEE NASTY
BOOBA • SAMEER AHMAD • KOHNDO • SCH • DILLON COOPER • ESPIIEM • BLACKALICIOUS • GEORGIO • ROOTS MANUVA • VALD • SITOU KOUDADJÉ • GRADUR • VINCE STAPLES • S.PRI NOIR • BILLIE BRELOK • OXMO PUCCINO • DISIZ • KENYON • LA RUMEUR •
FOCUS PRODUCTEURS 
THE ALCHEMIST • KNXWLEDGE
GRAFFITI 
RER customisés
RÉSISTANCE 
ACRIMED et MÉDIACRITIQUES décortiquent les l'enfumage médiatique
HOMMAGE 
ALLEN TOUSSAINT
CHRONIQUES 
ALBUMS • LIVRES • DVDs
DISPONIBLE DANS LE RÉSEAU PRESSE (marchands de journaux, Relay, super/hypermarchés…) ou en ligne sur
Annoncée l'année dernière, The Get Down la nouvelle série
de chez Netflix qui se déroulera à NY à la fin des années 70
et qui parlera de la naissance du mouvement Hip Hop
vient enfin d'avoir le droit à son 1er trailer!
Pas encore de date de diffusion mais ces premières images
sont plutôt rassurantes, j'attend avec impatience de voir ça!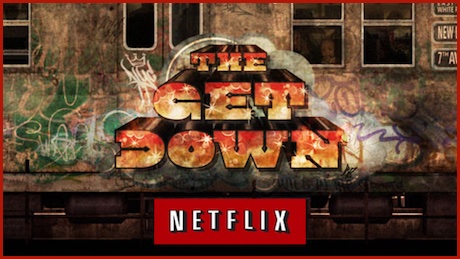 L'excellent documentaire Mr Dynamite réalisé par Alex Gibney 
et produit par Mick Jagger consacré au Godfather Of Soul
 (récemment diffusé sur Arte) vient d'arriver en format DVD/Blu-ray
avec une grosse dose de suppléments :
-Une table ronde en compagnie de Questlove (batteur de The Roots), du bassiste Christian McBride, Alan Leeds, directeur de tournée de James Brown, et Harry Weinger, producteur du coffret Star Timeet d'autres rééditions consacré au Godfather.
-Des interviews étendues des membres originaux du James Brown Revue : Pee Wee Ellis, Fred Wesley, Bootsy Collins, Martha High, Maceo Parker,  Melvin Parker, Jab'o Starks, Clyde Stubblefield et "Cape Man" Danny Ray ainsi que des interviews de Chuck D, Alan Leeds, Christian McBride, Rev. Al Sharpton, Greg Tate et Questlove.
-Un medley explosif de "Cold Sweat/I Can't Stand Myself (When You Touch Me)/Papa's Got A Brand New Bag/The Payback" dans l'émission Soul Train enregistré en septembre 1974
-Une interview de James réalisée par Don Cornelius en mars 75′  accompagnée d'une rare performance avec B.B. King et Bobby "Blue" Bland de "Goin' Down Slow/Gambler's Blues/It's My Own Fault/I'm Sorry"
-Une vidéo de "It's A Man's Man's Man's World" réalisée par by Xavier Fauthoux, vainqueur du Saatchi & Saatchi James Brown Music Video Challenge
-Un livret de 12 pages incluant un essai de Mick Jagger et de rares photos de James Brown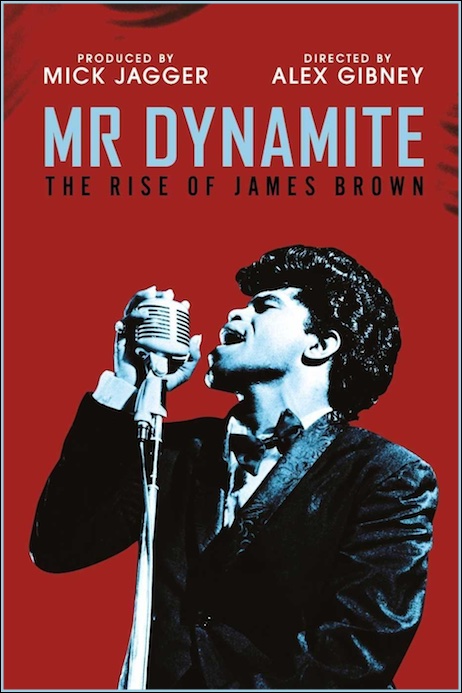 AU SOMMAIRE DES 100 PAGES DE iHH™ #3 :
INTERVIEWS XL
SNOOP DOGG
JOEY BADA$$
LINO
ASOCIAL CLUB
DOSSEH
PHASES CACHÉES
BISHOP NEHRU
ASAGAYA
WU-TANG CLAN
KAARIS
PANAMA BENDE
ALI
WIZ KHALIFA
SIANNA
SLIMKID3 & DJ NU-MARK
M-1 [DEAD PREZ]
FOCUS PRODUCTEURS
RZA
GUTS
DANSE HIP-HOP
B-BOY MOUNIR [VAGABOND CREW]
GRAFFITI
NEWCASTLE [UK]
RÉSISTANCE
UKRAINE : FASCISTES À LA BARRE
HOMMAGES
SEAN PRICE
GIL SCOTT-HERON
PUMPKINHEAD
DÉCRYPTAGE D'UNE ASCENSION
PNL
CHRONIQUES
ALBUMS
LIVRES
DVDs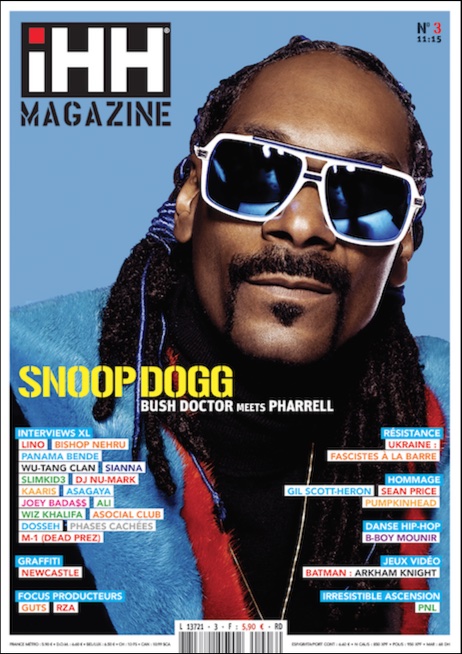 DISPONIBLE DANS LE RÉSEAU PRESSE (marchands de journaux, Relay, super/hypermarchés…)
ou en ligne sur