Retropolitan l'excellent album commun de Skyzoo & Pete Rock
est maintenant dans les bacs et dans le cadre de la promo
ils étaient aux Live Sessions de la chaîne Vevo pour
interpréter 2 titres extrait de l'album.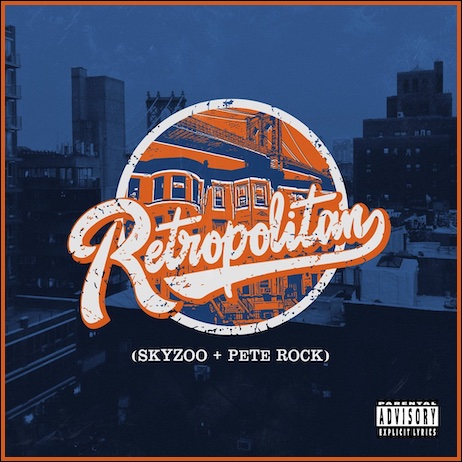 Pour la promo de EVE son dernier album, Rapsody est passé
faire 2 titres au Live Session de la chaîne Youtube Vevo.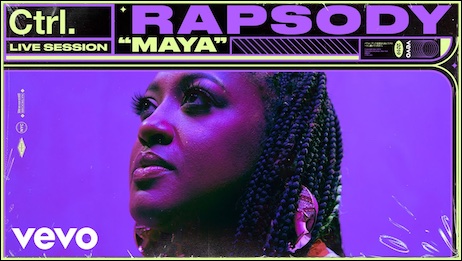 Black Thought est venu défendre son EP  Streams Of Thought Vol. 2 
dans l'émission de Jimmy Fallon…FiiiiiiRE!
Actuellement dispo en Digital sur iTunes.
Pour tous les fans du groupe Cella Dwellas voici une superbe archive 
d'Adam « Quest » Walde (fondateur de Underground Hip Hop).
Voici donc une vidéo « live » du show des Cella Dwellas filmée en 1999
quand ils faisaient la 1ère partie de Eminem!!!
ENJOY!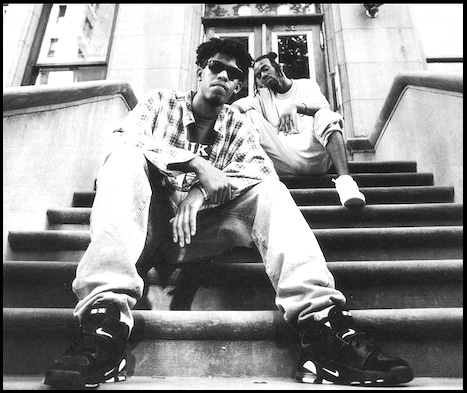 Les mecs de Black Moon fêtaient le 25ème anniversaire
de leur album Enta Da Stage la semaine dernière
sur la scène du SOB's à New York.
Merci au site GoodFellaz.TV de nous permettre d'avoir un
aperçu de cette soirée avec une version live de I Got Cha Opin!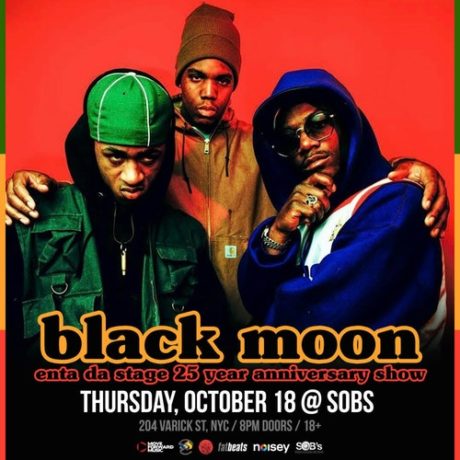 Jimmy Kimmel a réussi l'exploit de réunir le Wu-Tang au complet
pour une version live de Protect Ya Neck & C.R.E.A.M
Pour le couplet d'ODB (RiP) c'est son fils qui représente le daron!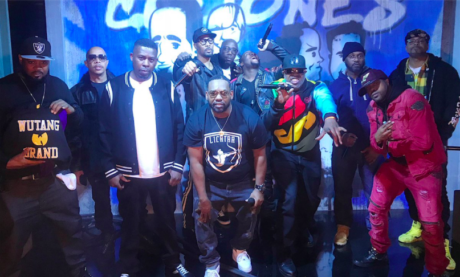 Depuis 2004 l'association RIGHTEOUS (en collaboration avec l'association Catharsis)
vous donne RDV le 21 juin pour la Block Party Hip Hop de la Fête de la Musique !
Le concept est simple : on sort les platines MK2 sur le trottoir,
les DJ's prennent le contrôle du son avec leurs vinyles, tout le monde danse dans la rue
et Paris devient Brooklyn le temps d'une soirée !
Aux commandes de cette Hip Hop Block Party toujours authentiquement mixée avec des vinyles :
PSYCUT / JONE.B / NAMSS / MOODY MIKE
IDEM / PEST / MIRS / FRANK KNIGHT (RAP/USA)
COSHMAR / KULTURE DJ's / NUMBERSIX
KILL THE BEAT FREESTYLE CYPHER (RAP/FR)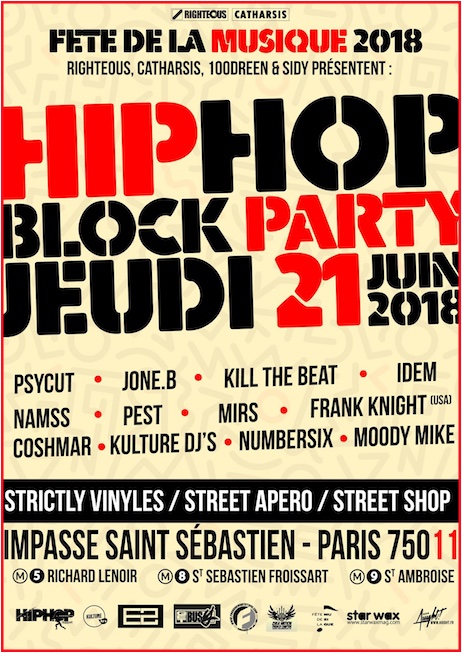 Le 19/04/94 sortait un album qui allait révolutionner le genre
pour devenir une référence absolue pour tous les amateurs
de rap de la planète! illmatic fête donc ses 24 années d'existence
et pour célébrer cet anniversaire une édition vinyl limitée
d'une version live de l'album avec un orchestre philharmonique
sort aujourd'hui à l'occasion du Disquaire Day.
Si vous êtes sur Paris, cette édition sera dispo chez Gibert Joseph
au magasin de Saint-Michel.
Nouveau titre de Joey Bada$$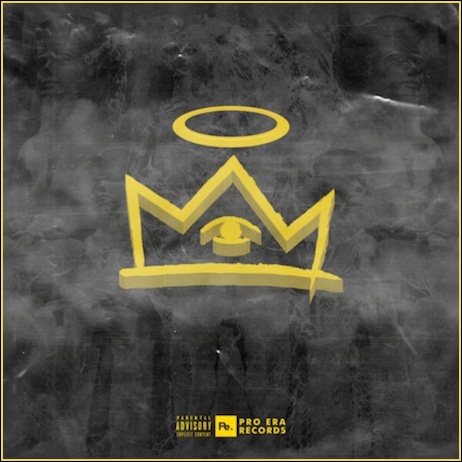 Joey Bada$$ était l'invité de l'émission radio Australienne
Like A Version sur TipleJ dont le principe est de proposer
à l'invité d'interpreter « à sa sauce » un titre qu'il affectionne.
Pour le coup Joey a fait une « cover » du When Doves Cry de Prince
qui est devenue When Thugs Cry! Il en a profité pour jouer son
titre Temptation' extrait de son dernier album
All-Amerikkkan Bada$$
Sismographe et L'International présentent « SISMO LIVE » avec le soutien du festival PARIS HIP HOP 2017, l'équipe du label Sismographe est de retour à L'International pour un concert 100% rap US, avec un plateau d'artistes New Yorkais inédit !
On ouvrira les hostilités avec un warm up DJ exclusif autour des prochaines sorties Sismographe assuré par L'undercover aux platines, les shows live des 2 MCs américains et des sets des DJs Jero et G High Djo pour finir !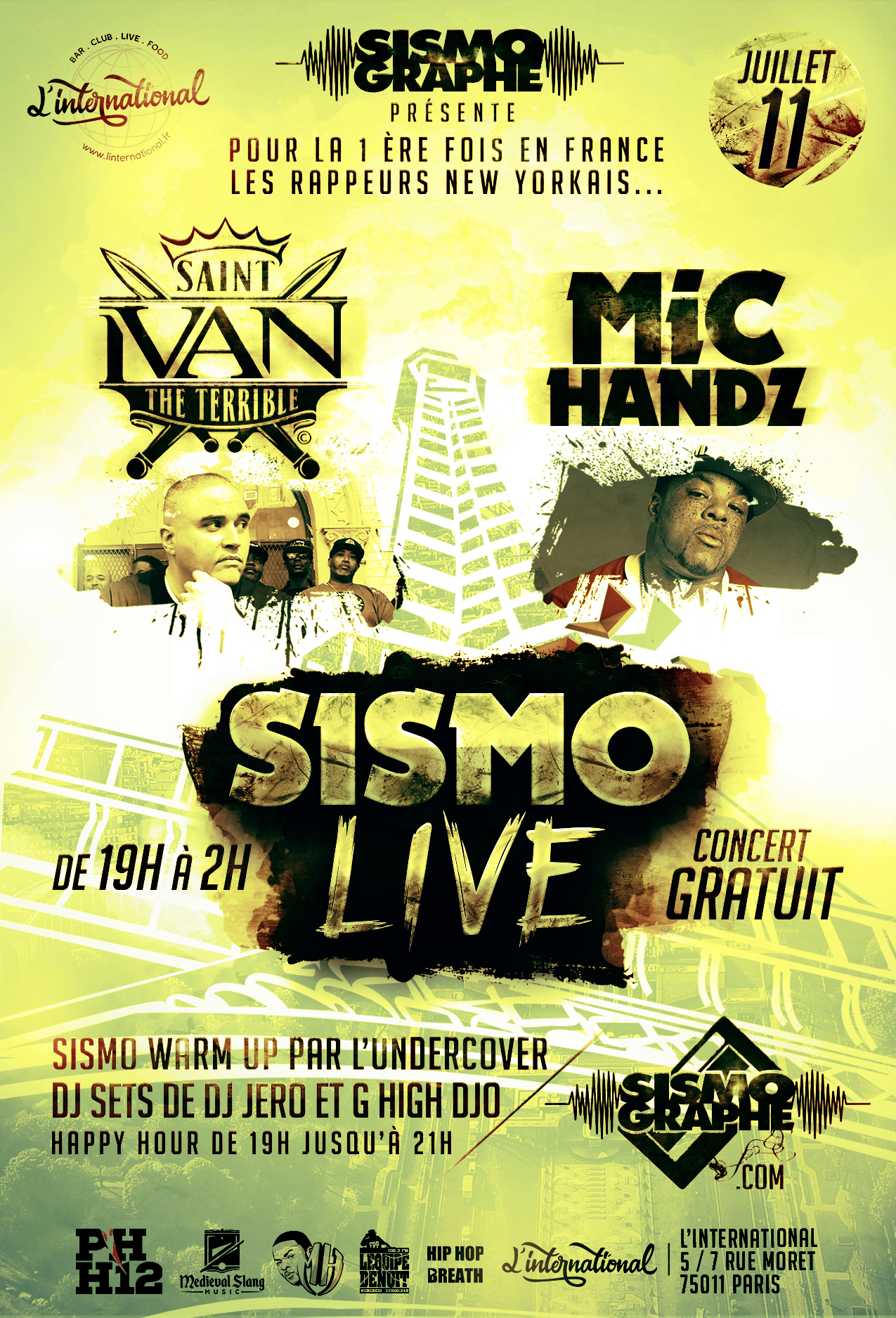 + D'INFOS SUR LE FACEBOOK EVENTS