Quand le poto DJ Suspect décide de plonger ses mains
dans le catalogue du label Rocafort Records pour en extraire
60mn de soul/funk endiablé, ça donne cette mixtape
qui devrait faire kiffer tous les amateurs du genre!
Dispo en K7 limitée à 50 exemplaires sur Bandcamp.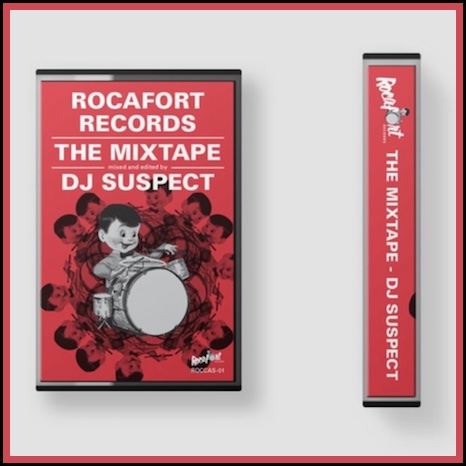 Clip extrait de la compilation Nocturne dont j'avais déjà
parlé ici en début d'année. À noter que la compil est
dispo en édition limitée à 100 exemplaires sur Bandcamp.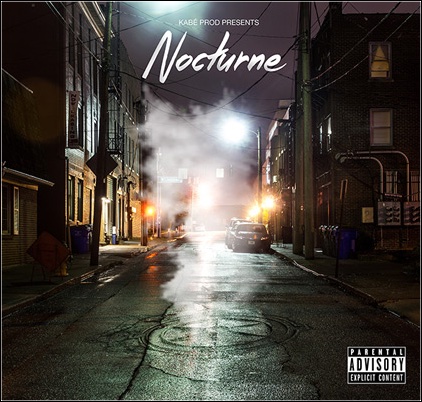 J'étais un peu à la bourre vu la « productivité » du poto DJ Young LeF
donc voici les 3 dernières émissions de M City Radio (Vol.6, 7 & 8).
Pour les tracklisting vous pouvez les retrouver sur son Mixcloud.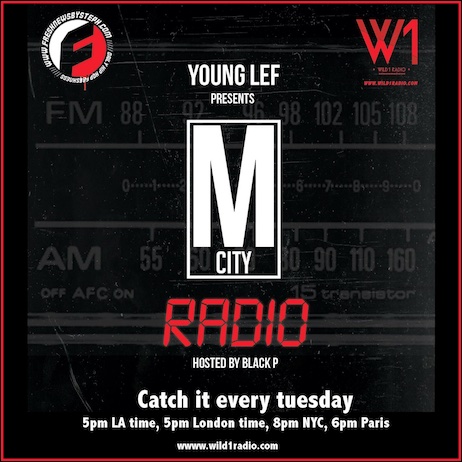 Nouvel extrait de la compilation Forever MC qui sortira le 30/03.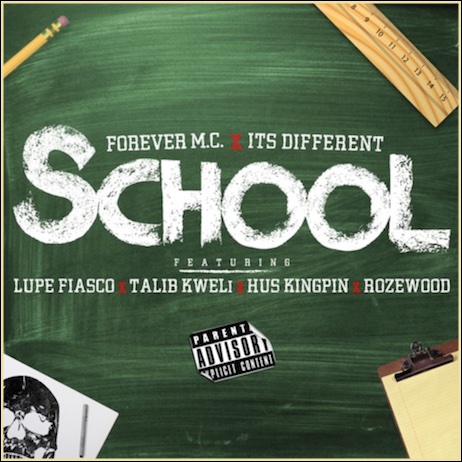 Ci-dessous le sampler de la compilation!
Nouvelle playlist de la série M City Radio du poto DJ Young LeF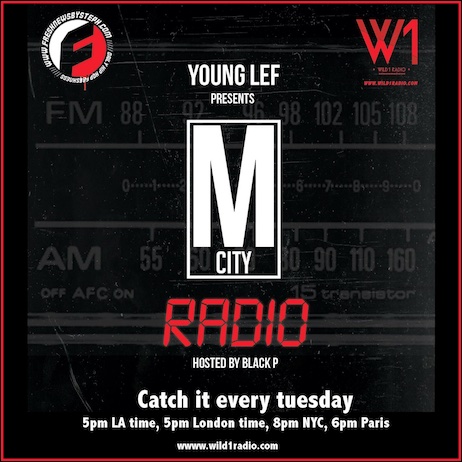 Tracklist :
1. Black P : intro ( Just Music Beats )
2. Nym Lo × Dave East : speedin remix
3. Benny : man of the kitchen
4. Crime Apple : crime state of mind
5. Eto : family tree
6. Willie the Kid × Eto × Manic : duck boots
7. The Musalini × Benny : stay down
8. Vado : diplomat immunity freestyle
9. Joe luccaz : doute ( Boudj )
10. Royce da 5″9 × WSG × Conway : gov ball
11. Berner × The Lox : family first
12. Dave East × Don Q : family feud freestyle
13. Tory Lanez : hate to say that
14. David Bars : burglar sound
15. Lik moss × Ar-ab : blood brother
16. King Bo × Rigz : ahead of u
17. Heem × Benny × Yung Steez : survival of the fittest
18. Dave East × Huey : talkin to God
19. [ EXCLU ] Ron Brice : dans l axe ( Just Music Beats & Ron Brice )
20. Axel Leon × Jim Jones × Fred the Godson : mirror mirror
21. Joel Ortiz × Fred the Godson : talk dat
22. T Killa × Lino : avsh ( Street Fabulous )
23. Lloyd Banks : mighty healthy freestyle
24. Nipsey Hussle : stucc in the grind
Azaia s'est entouré de la crème des beatmakers français
pour ce projet instrumentals intitulé Translating The Zone
sur lequel on retrouve des sons signés Dusty (Jazz Liberatorz),
Hugo LX, Mr Hone, Dagui, Cris Prolific, Kyo Itachi,
Odweeyne, Onra, AAyhasis, Yann Kesz, Walter Mecca,
Venom, Parental, Mani Deïz, Astronote, Art Patterns,
Dela & Azaia. Le projet est disponible en CD, Vinyl & Digital
sur Bandcamp et pour ceux qui sont sur Paris vous pouvez
le trouver chez Gibert Joseph St Michel, OCD (Chatelet),
Music Avenue, Crocodisc, La Contrebande.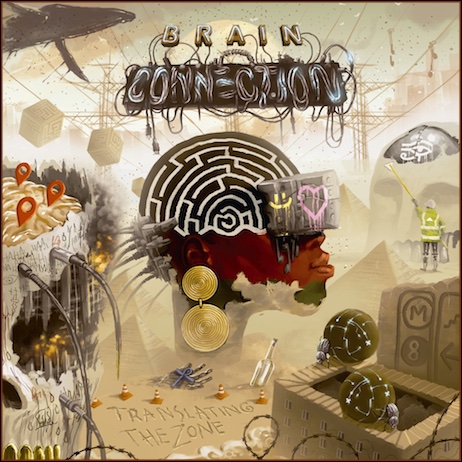 Le poto DJ Shean vient de balancer le 1er volume de sa série
de mixtape Clap Back qui mélange Classic Hip Hop & RnB 90's.
Au total 30 titres qui vous ferons faire un saut dans le passé
avec des titres de Mobb Deep, Naughty By Nature, EPMD,
King Just, New Edition, 112, R Kelly, Joe, Zhane,
Busta Rhymes, Wu-Tang, Nine, SWV, Jay-Z & MORE!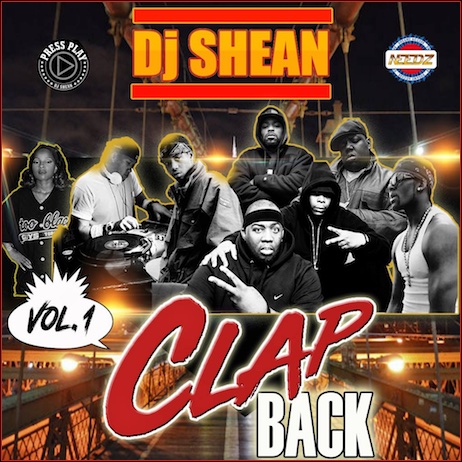 MIX DISPO EN TÉLÉCHARGEMENT GRATUIT ICI
(ALBUM EN PISTES SÉPARÉES DISPO ICI)
Pour débuter l'année en musique et remercier ses « supporters »
le label Effiscienz vient de mettre en ligne une nouvelle
compilation intitulée Out Of Nowhere sur laquelle on retrouve
 les artistes maisons comme DJ Brans, DJ Djaz, Fel Sweetenberg,
Mil, Junior Makhno, Street Wyze, mais aussi les artistes
avec lesquels le label a collaboré dans le passé ainsi
que ceux avec qui Effiscienz va collaborer dans un futur proche :
Vic Spencer, Nicholas Craven, Sauce Heist et Funkonami.
Out Of Nowhere est disponible en téléchargement gratuit
sur Bandcamp.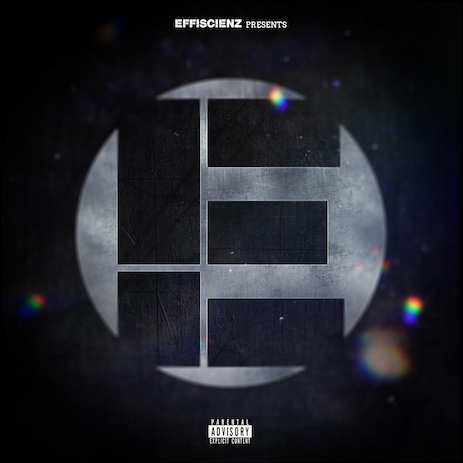 TRACK LISTING:
01 I Got That Shit (feat DJ Self) [prod by Funkonami]
02 High Noon (feat Fel Sweetenberg & DJ Djaz) [prod by DJ Brans]
03 A Jersey Tale (feat Union Blak) [prod by Sir Williams]
04 Hang Dry (feat Vic Spencer) [prod by Mil]
05 The Return (feat AKD) [prod by Deepstar]
06 Demonstrate (feat Edo G & Raf Almighty) [prod by Street Wyze]
07 Nu Crack Babies (feat Sauce Heist) [prod by Junior Makhno]
08 We The Best At It (feat Roc Marciano & Tha God Fahim) [prod by Street Wyze]
09 Parisian Nights (feat M-Dot & DJ Djaz) [prod by DJ Brans]
10 The Drill (feat Fel Sweetenberg) [prod by Fel Sweetenberg]
11 Dragoon (feat Jimmie D) [prod by Nicholas Craven]
Histoire de vous donner un « avant-goût »
voici le 1er clip extrait de Out Of Nowhere
Mon gars Corrado a réalisé ce mix spécial Roc Marciano 
pour le site Abcdrduson.com mais je tenais à le partager
aussi sur mes Fresh News car les Built To Last Mix
sont toujours synonyme de qualités!
2 autres volumes devraient suivre d'ici peu.
ROC MARCIANO – Built to last Mix – Volume 1
01 – Helpless Dreamer
02 – Cut Throat Rap
03 – War games
04 – White Russian
05 – Boss Material 1
06 – Lyrical Assassins
07 – Ball of Yarn
08 – Three Sixty Five
09 – My Persona
10 – Fame
11 – Nine Spray
12 – Sweet Nothings
13 – Take Me Over
14 – In Heaven's Home
15 – Outta control
16 – 1010 Wins
17 – Rocky II
18 – Patina
19 – Shit Hard
20 – Granite
21 – No Filter
22 – Poltergeist
23 – As Long As Its Real
24 – Hey Love
25 – The Prophecy (Oxidation Remix)
26 – Live from Pimpstead
27 – Time for Change
28 – Kein F (Verse)
29 – Pimpin' Ain't Easy
30 – Freestyle
Big Up au poto Corrado!
Pour mes QB addicts, la compilation Queensbridge United
est enfin disponible gratuitement ici.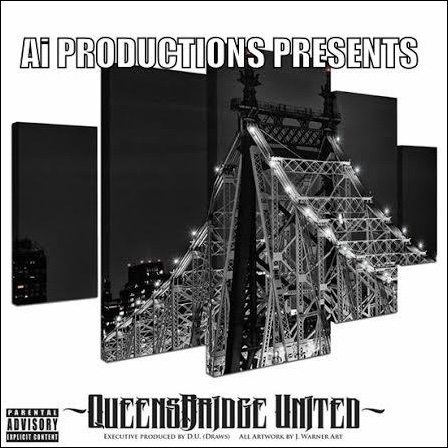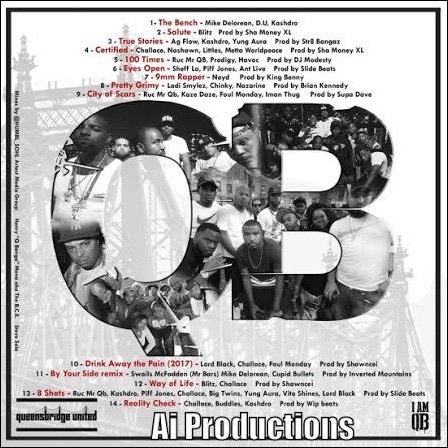 DISPO EN TÉLÉCHARGEMENT GRATUIT ICI 
Pour ceux qui ne connaissent pas encore le groupe canadien
Citizen Kane c'est le moment de vous rattraper avec leur dernier
clip extrait de la compilation M.I.C. (Made In Canada) V10 
mixée par DJ Law (dispo en freedownload ici)
DISPO EN TÉLÉCHARGEMENT GRATUIT ICI

Extrait de la compilation Eastern Society du producteur Paragone
sur laquelle on retrouve 9th Prince, Solomon Childs (Theodore Unit),
William Cooper (Black Market Militia), Bronze Nazareth, Timbo King,
Stoneface, Napoleon (Wu-Syndicate) & Tragic Allies.
Dispo sur iTunes et en CD edition limitée sur Bandcamp.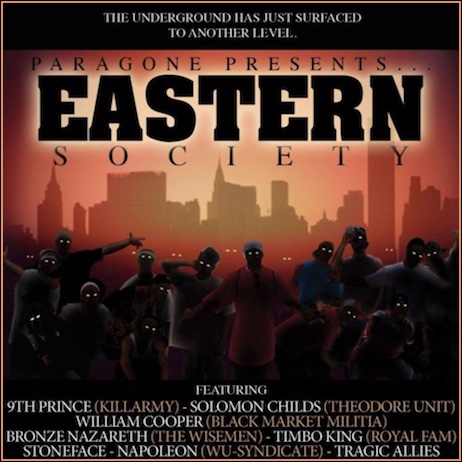 Quand le poto Jee Van Cleef m'a proposé ce mix uniquement
composé de titres des Beatnuts ne figurant pas sur leurs albums,
j'ai eu une petite « érection auditive » et j'ai immédiatement chargé
le fichier pour passer à la phase « écoute ».
Résultat : 1H de tueries sélectionnées avec amour
que les aficionados du duo du Queens devraient apprécier.
Faites vous plaisir…c'est en téléchargement gratuit un peu plus bas!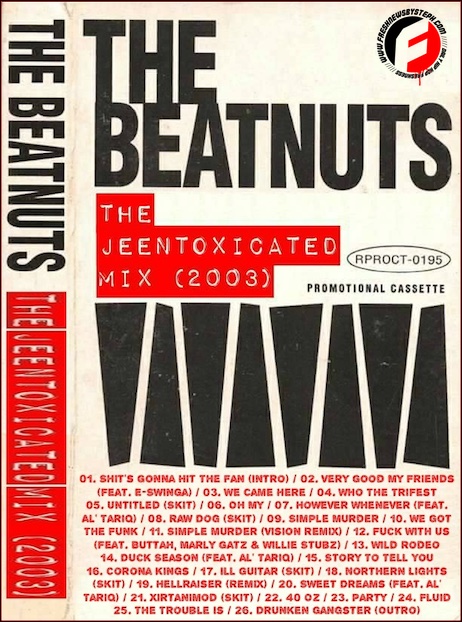 -DISPO EN TÉLÉCHARGEMENT GRATUIT ICI–
BIG UP JEE & THANKS FOR THIS EXCLUSIVE SHIIIIIT!