La Block Party de l'Impasse Saint-Sébastien est de retour !
On sort les platines sur le trottoir, les DJ prennent le contrôle du son et tout le monde danse dans la rue !
cette année c'est : NAMSS – MINA – NUFF CED – POSKA – MONSIEUR WILLY – ZIO JOHN & TREM qui seront aux commandes de cette Block Party placée sous le signe du vinyle !
Exceptionnellement cette année, la Block Party accueille le
KILL THE BEAT FREESTYLE CYPHER :
Kill The Beat Freestyle Cypher est directement inspiré par les freestyles organisés par TeamBackPack aux Etats-Unis.
Un micro de studio au centre de la scène, les mc's balanceront leur meilleures rimes et punchlines à tour de rôle, le tout ambiancé par SIMS que l'on ne présente plus.
Les inscriptions se feront sur la page facebook HipHopSupport l'organisateur de ce concept !
De 18h00 à 20h00 venez prendre l'apéro pendant le désormais célèbre STREET APERO : chacun est invité à ramener à boire et à manger et ON PARTAGE tous ensemble !
De 20h00 à 23h00 Venez faire votre shopping pendant le STREET SHOP!
RDV le 21 juin de 18h00 à 00h00
IMPASSE SAINT-SÉBASTIEN 75011 PARIS
L'impasse la plus groovy de Paris !
Accès métro : Richard Lenoir / Saint-Sébastien Froissart / Saint-Ambroise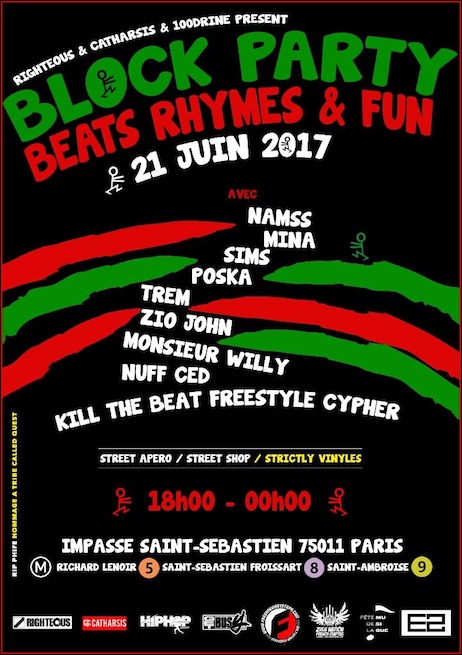 LA soirée REMINISCE revient le vendredi 9 juin au BIZZ'ART pour les inconditionnels de musique NU SOUL, R&B ET NEW JACK.
Pour cette opus nous avons l'honneur d'invité DJ POSKA pour le plus grand plaisir de vos oreilles.
Les dj's distilleront les incontournables du genre : TLC, Bobby Brown, SWV, Janet Jackson, Montell Jordan, Dwele, D'Angelo, Mary J Blige, Angie Stone, Aaliyah, Raheem Devaughn, Usher, Boyz II Men , Blackstreet , Donell Jones …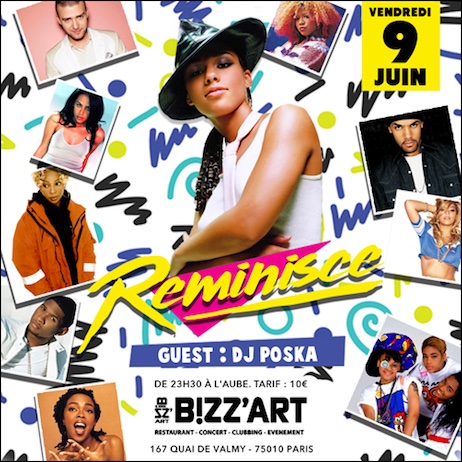 INFOS PRATIQUES ↓
Vendredi 9 juin 2017.
De 23H30 à l'aube .
Tarif : 10€.
BIZZ'ART.
167 QUAI DE VALMY . PARIS X .
Métro: Louis Blanc / Jaures .
+ D'INFOS SUR LE FACEBOOK EVENTS 
Dernière mixtape signée DJ Green Lantern réalisée en collaboration
avec le rappeur de Buffalo Conway a.k.a The Machine!

Tracklist :
1.Green Lantern Intro
2.You Kan't Live freestyle
3.Love freestyle
4.Rick Boxes (produced by Daringer)
5.Spurs feat. Benny (produced by Daringer)
6.Dead Bodies Left
7.iLL feat. Royce Da 5'9 (produced by Green Lantern)
8.Cooked In Hell's Kitchen (produced by Daringer)
9.Priest (produced by Daringer)
10.Not Humble freestyle
11.Through It All (produced by Daringer)
12.The Vision freestyle
DISPO EN TÉLÉCHARGEMENT GRATUIT SUR DATPIFF.COM
Killa Sha nous a quitté en 2010 et même si il n'a jamais « brillé »
à sa juste valeur, il laisse derrière lui un album (GOD Walk On Water)
que beaucoup considèrent aujourd'hui comme un classique!
DJ Peter Parker, qui avait l'habitude de bosser avec lui
vient de réunir divers freestyles inédits, Enjoy!
KILLA SHA R.I.P
Après les mixtapes Enter The Dragon Vol.1 et Armed & Dangerous
voici ma 3ème collaboration avec le poto DJ Duke (Assassin).
Intitulée Heart & Soul Of New York City cette nouvelle mixtape
est entièrement consacrée à la ville qui ne dort jamais avec une série de
New York Anthem sélectionné par Jee Van Cleef et moi même!
C'est dispo en téléchargement gratuit sur Bandcamp donc faites
vous plaisir et partagez un maximum!!!
Nouvelle production du poto DJ Modesty (The Real Hip Hop Show)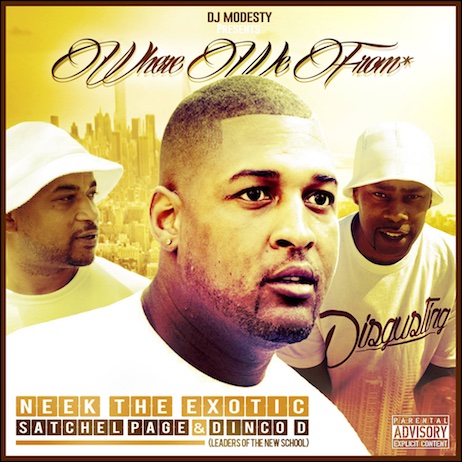 GOLDEN YEARS est de retour le dimanche 30 avril (veille de jour férié) dans le magnifique cadre du DJOON.
La soirée de référence Rap, Rnb, New Jack 90's / 00's vous prépare une spéciale WEST COAST VS EAST COAST.
Pour cette opus nous avons l'honneur d'invité Dj CRAZY B ( BIRDY NAM NAM-ALLIANCE ETHNIK ) pour le plus grand plaisir de vos oreilles.
Venez redécouvrir vos morceaux préférés à la sauce GOLDEN dans l'un des meilleurs sound systèm de Paris.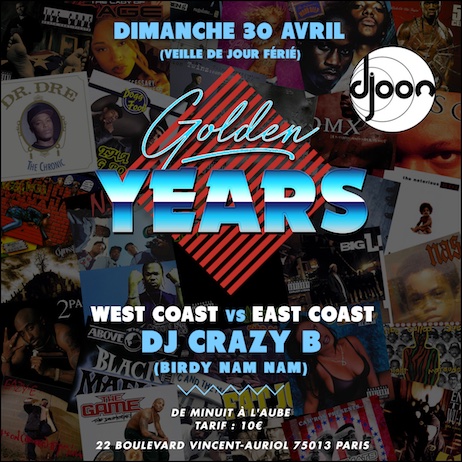 + D'INFOS SUR LE FACEBOOK EVENTS
DJ Eveready & DJ Karsai viennent de concocter une mixtape
consacrée au label Ill Adrenaline Records reconnu pour
son catalogue. Pour ceux qui ne connaissent pas encore
c'est l'occasion de rattraper votre retard!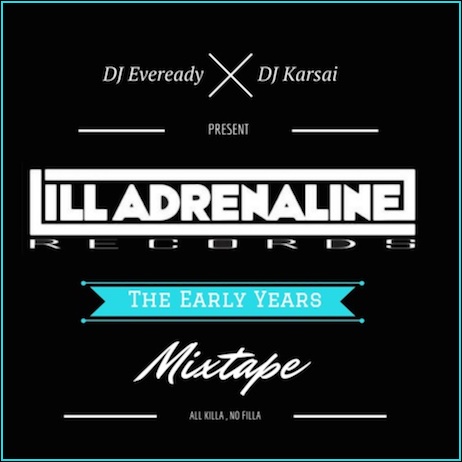 Tracklist :
1. Dee Jay Eveready & Dj Karsai Featuring Beneficence – Intro –
2. Beatminerz – Sumthin' (feat. Tash of Tha Alkaholiks & Rah Digga)
3. Beneficence – Y.W.E. (feat. Lord Tariq)
4. Beatminerz – Spitgame (feat. O.C. Of D.I.T.C.)-
5. Beneficence – Way We Rockin – (feat El Da Sensei)
6. Beneficence – With My Real People (feat. Lord Tariq & Prince Po)
7. Purpose & Confidence -The Break Down
8. Interlude – Feat Confidence
9.The Regiment – Yours & Mine
10. Frankenstien – The Project (Remix)
11. B1 & Large Professor – Hands Of Time
12. Paranom & Purpose – Be A King
13. Real Good – Hannibal Stax
14.Paranom & Purpose – Godiva
15.Purpose & Confidence – Promise Me This
16. Dee Jay Eveready & Dj Karsai – Interlude
17. Rashad & KVBeats – We Know The Rules
18. Neek The Exotic – We Hot
19. 7 Gems – Foul Thesis
20. Beneficence – Cold Train (Feat Grap Luva, Rob-O and K-Def)
21. Paranom & Purpose – Microphone Phenomenal
22. Dee Jay Eveready & DJ Karsai – Interlude
23. Rashad & Confidence – Pen On Display
24. Paranom & Purpose – I Remember
25. Professor P & DJ Akilles – Lamp Posts & Neon Lights (feat. Blu)
26. Professor P & DJ Akilles – Killing Time feat. A.G. (of D.I.T.C.)
27. Price & Confidence – Dear Ni**a
28. Kon Sci – Interlude
29. MindsOne – Manipulated
30. Rashad & Confidence – Rumors of War
31. Purpose & Confidence – Rain Drops
32. Paranom & Purpose – So High
33. Paramon & Purpose – 7 Sciences
34. Paranom- Interlude
35. Beneficence – Put It On The Wire (Feat Simone Hines)
36. Professor P & DJ Akilles – Theroy
37. The Legion – Stereo (Confidence Remix)
38. Parmon & Purpose – Precision
39. Beneficence – Perfect Navigation (feat. Asu & Blacksun)
40. 7 Gems – Without You
41. Paramon & Purpose – Days Goes By
42. Beneficence – Outro
Hier nous fêtions le triste anniversaire des 20 ans de la mort
de Notorious BiG. Rien de mieux pour se souvenir de celui
considéré par beaucoup comme l'un des meilleurs MC de l'histoire
du rap que d'écouter sa musique. Pour l'occasion DJ Phantom
de l'équipe Smells Hip Hop Team a balancé une très bonne
mixtape dispo en téléchargement sur Soundcloud.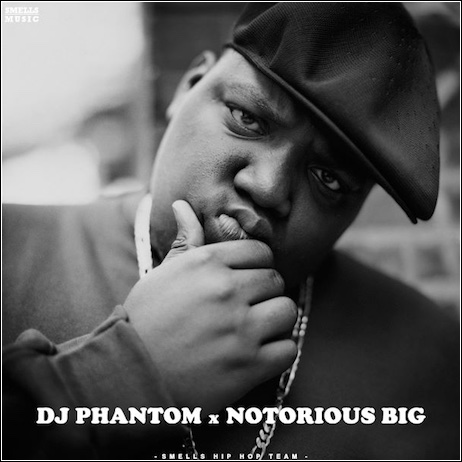 – TRACKLISTING –
1 – DJ PHANTOM – Intro
2 – Warning
3 – Dead Wrong Feat. Eminem
4 – Big Poppa
5 – Rap Phenomenon Feat. Redman & Method Man
6 – The What Feat. Method Man
7 – Ten Crack Commandments
8 – Come On Feat. Sadat X
9 – Just Playing (Dreams)
10 – Respect Feat. Diana King
11 – Kick N Da Door
12 – Sky's The Limit Feat. 112
13 – Unbelievable
14 – Get Money Feat. Lil' Kim & Lil' Cease
15 – Dangerous MCs Feat. Busta Rhymes, Snoop Dogg & Mark Curry
16 – Who Shot Ya
17 – Gimme The Loot
18 – Machine Gun Funk
19 – Hypnotize
20 – Juicy
21 – Going Back To Cali
Petit récapitulatif des morceaux solo du Rock (Heltah Skeltah)!
Avec leur signature récente sur Shady Records les frangins de Buffalo
devraient connaître une nouvelle notoriété et dépasser le cadre
de leur « fan base » pour toucher un nouveau public!
La 1ère phase est enclenché avec l'arrivée de cette mixtape signée
DJ Green Lantern qui revient sur les anciens titres de WestsideGunn
agrémenté de quelques inédits et remix.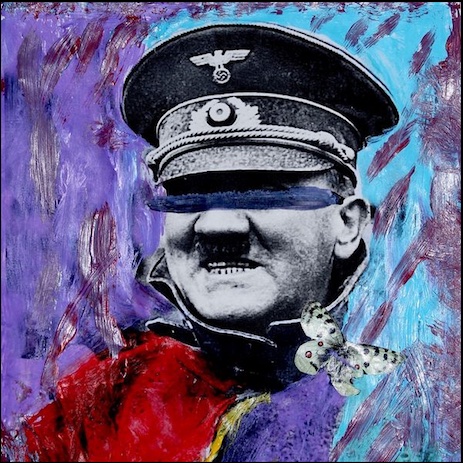 DISPO EN TÉLÉCHARGEMENT SUR DATPIFF.COM
Yo!
GOLDEN YEARS OF HIP HOP est enfin de retour le samedi 18 mars sur le Flow Paris.
La soirée de référence 90's / 00's vous prépare une battle de classiques rap us vs rap français.
Pour cette opus nous avons l'honneur d'invité Dj JAMES (NTM) pour le plus grand plaisir de vos oreilles.
Alors check le Flow!
▄▄▄▄▄▄▄▄▄▄▄▄▄▄▄▄▄▄▄▄▄▄▄▄▄▄▄▄▄▄▄▄▄▄▄▄
INFOS PRATIQUES ↓
Samedi 18 mars 2017.
De 23h50 à 6h00
Tarif: 12 €
FLOW:
4 port des Invalides.
Métro Invalides (lignes 8 et 13)
Géolocalisation : 48°51'47.8″N , 02°18'53.6″E
Bus : N° 63, 69, 83 et 93
Noctilien : N01 et N02
Velib : Station n°07010, n° 07026 , n°00905