Le classic It Takes A Nation Of Millions To Hold Us Back de P.E
ressortira le 24/11 dans une édition Deluxe qui comprendra
2 CDs + 1 DVD. Pour ceux qui n'ont pas encore cet album
dans leur collection, c'est l'occasion de rattraper ce retard!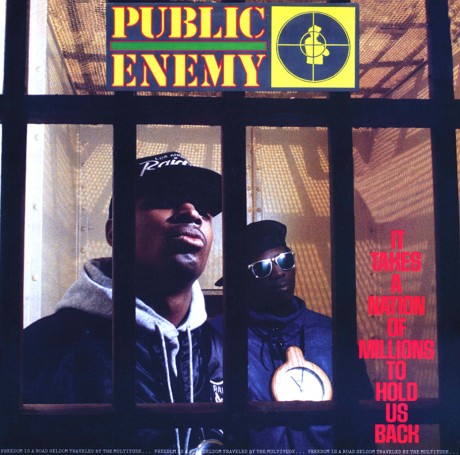 Disc: 1
1. Countdown To Armageddon
2. Bring The Noise
3. Don't Believe The Hype
4. Cold Lampin' With Flavor
5. Terminator X To The Edge Of Panic
6. Mind Terrorist
7. Louder Than A Bomb
8. Caught, Can We Get A Witness?
9. Show 'Em Whatcha Got
10. She Watch Channel Zero?!
11. Night Of The Living Baseheads
12. Black Steel In The Hour of Chaos
13. Security Of The First World
14. Rebel Without A Pause
15. Prophets Of Rage
16. Party For Your Right To Fight
Disc: 2
1. Bring The Noise (No Noise Version)
2. Bring The Noise (No Noise Instrumental)
3. Bring The Noise (No Noise A Cappella)
4. Rebel Without A Pause (Instrumental)
5. Night Of The Living Baseheads
(Anti-High Blood Pressure Encounter Mix)
6. Night Of The Living Baseheads
(Terminator X Meets DST And Chuck Chill Out Instrumental Mix)
7. Terminator X To The Edge Of Panic
(No Need To Panic Radio Version)
8. The Edge Of Panic
9. The Rhythm, The Rebel (A Capella)
10. Prophets Of Rage (Power Version)
11. Caught, Can We Get A Witness? (Pre Black Steel Ballistic Felony Dub)
12. B-Side Wins Again (Original Version)
13. Black Steel In The Hour Of Chaos (Instrumental)
14. Fight The Power (Soundtrack Version)
Disc: 3 (DVD)
1. Countdown to Armageddon (Fight The Power Live)
2. Public Enemy Number One (Fight The Power Live)
3. Miuzi Weighs A Ton (Fight The Power Live)
4. Night Of The Living Baseheads (Fight The Power Live)
5. Fight The Power (Fight The Power Live)
6. Bring The Noise (Fight The Power Live)
7. Don't Believe The Hype (Fight The Power Live)
8. Black Steel In The Hour Of Chaos (Fight The Power Live)
9. Rebel Without A Pause (Fight The Power Live)
10. Terminator X To The Edge Of Panic (Fight The Power Live)
11. Night Of The Living Baseheads (Fight The Power Live)
12. Prophets Of Rage (Fight The Power Live)
DISPO EN PRÉCOMMANDE SUR AMAZON.COM