Envie de décompresser après une journée de travail, de se retrouver entre amis autour d'un verre, d'un repas ?
Ou tout simplement passer un bon moment avec des gens cools, écouter une sélection musicale de qualité allant du RnB au Rap en passant par la Soul, Funk, House mixée par les incontournables DJ's de la capitale et des guests prestigieux de passage …
Nous avons ce qu'il vous faut!
Works of Projects & Golden Years s'associent avec leurs dix années d'expérience des nuits parisiennes pour vous présenter
INTO THE GROOVE AFTERWORK.
Votre nouveau rendez-vous du mercredi soir, au Sanz, bar situé dans le quartier de Bastille, au cadre atypique que l'on ne présente plus.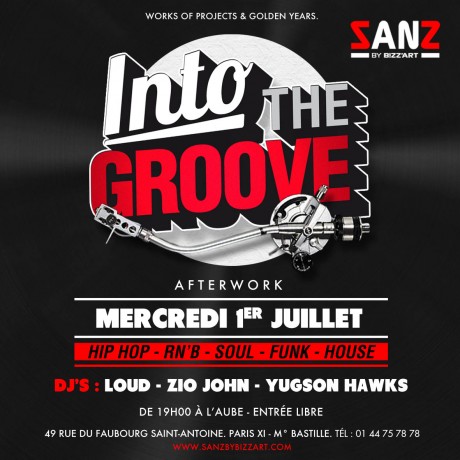 + D'INFOS SUR LE FACEBOOK EVENTS