Le poto Venom (Marvel Records) vient d'annoncer la sortie
aujourd'hui même de son nouvel album intitulé Ruff N Tuff.
Une fois de plus la pochette est signé Melki que les amateurs
de VHS & films d'horreurs 80's connaissent bien!
Au programme de ce nouvel album dans lequel Venom
prouve une nouvelle fois ses talents de beatmaker on retrouve :
Camp Lo, M E D (Stone Throw), Rah Digga, Shabaam Sahdeeq,
Ras Kass, Conway, The Legion, Shadez Of Brooklyn,
Marquee, Skanks & Gstats (of Bankai Fam), F.O.D,
Nolan The Ninja & Stacy Epps.
Ruff N Tuff est en vente en Digital & CD sur Bandcamp.
FULL SUPPORT!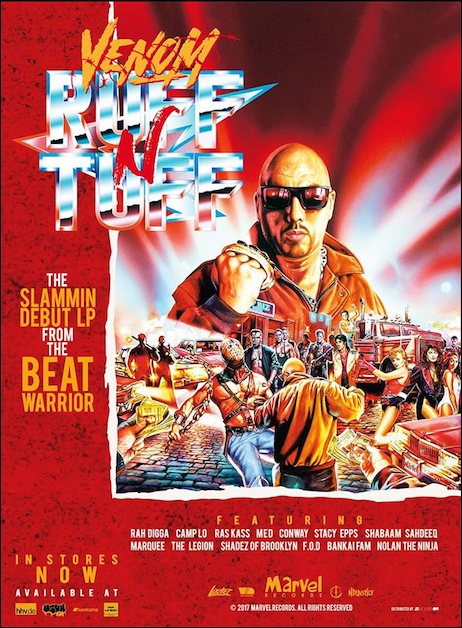 Tracklist :
01 – First Hit (Opening Credits)
02 – Face Off feat. The Legion
03 – The Revenge feat. MED
04 – Ready For Action feat. Camp Lo
05 – Crack Down feat. Shabaam Sahdeeq & Ras Kass
06 – Back In Position Remix feat Skanks (of Bankai Fam)
07 – Cut The Line feat. Marquee
08 – The Showdown (No Retreat, No Surrender)
09 – Chain Ruckus feat. Nolan the Ninja
10 – Ruff And Tuff feat. Rah Digga
11 – Buleseye feat. Conway
12 -Game Of Survival feat. Gstats (of bankai Fam)
13 – Beat Warrior feat. Stacy Epps
14 – Too Tuff To Die feat. F.O.D
15 – Wrong Time feat. Shadez Of Brooklyn
16 – On His Own (End Title)