Après le Vol.1 (toujours dispo ici) le poto Dj Young leF 
vient de mettre en ligne le second volume de sa série
M City Radio…ENJOY!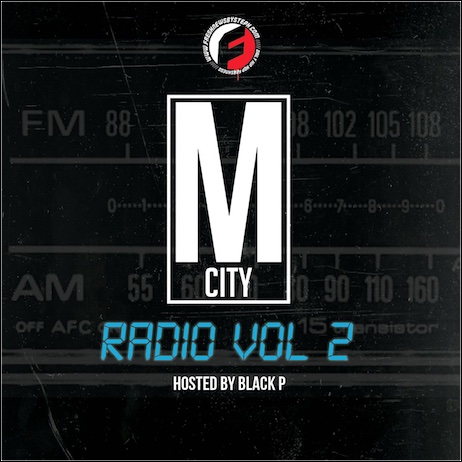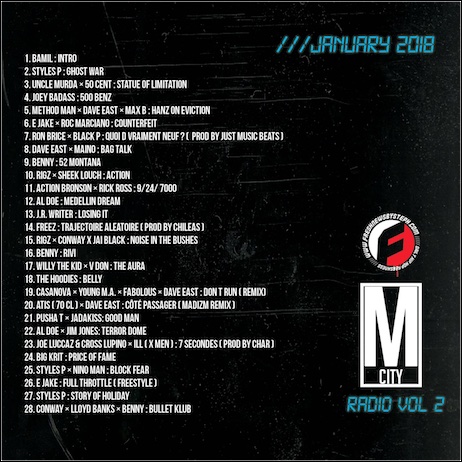 Nouveau clip de Dave East extrait de sa dernière tape
KARMA dispo en téléchargement gratuit sur Datpiff.com.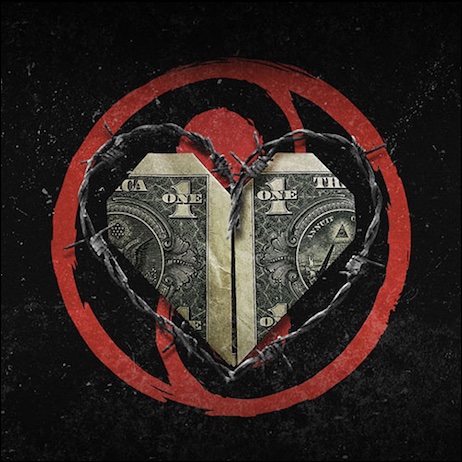 Conway a décidé de nous faire un jolie cadeau de Noël avant
l'heure avec la mise en ligne de G.O.A.T. son nouvel album.
Produit en grande partie par Daringer on y retrouve aussi
The Alchemist, Royce Da 5'9, Styles P, Benny, Raekwon.
L'album est dispo en CD sur Whoisconwaythemachine.com.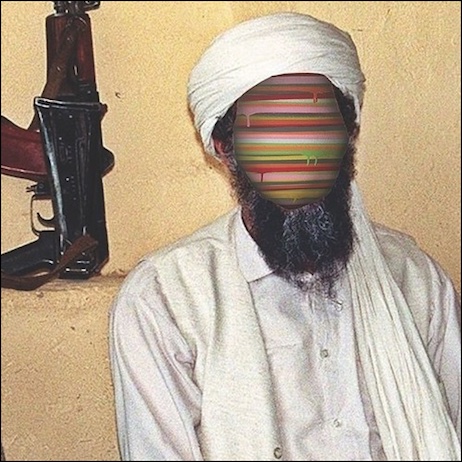 DISPO EN TÉLÉCHARGEMENT GRATUIT SUR DATPIFF.COM
Nouveau clip de Rigz,
extrait de sa dernière tape I Got Samples hosted by
Statik Selektah et dispo en téléchargement sur Datpiff.com.
Mon gars Corrado a réalisé ce mix spécial Roc Marciano 
pour le site Abcdrduson.com mais je tenais à le partager
aussi sur mes Fresh News car les Built To Last Mix
sont toujours synonyme de qualités!
2 autres volumes devraient suivre d'ici peu.
ROC MARCIANO – Built to last Mix – Volume 1
01 – Helpless Dreamer
02 – Cut Throat Rap
03 – War games
04 – White Russian
05 – Boss Material 1
06 – Lyrical Assassins
07 – Ball of Yarn
08 – Three Sixty Five
09 – My Persona
10 – Fame
11 – Nine Spray
12 – Sweet Nothings
13 – Take Me Over
14 – In Heaven's Home
15 – Outta control
16 – 1010 Wins
17 – Rocky II
18 – Patina
19 – Shit Hard
20 – Granite
21 – No Filter
22 – Poltergeist
23 – As Long As Its Real
24 – Hey Love
25 – The Prophecy (Oxidation Remix)
26 – Live from Pimpstead
27 – Time for Change
28 – Kein F (Verse)
29 – Pimpin' Ain't Easy
30 – Freestyle
Big Up au poto Corrado!
Le poto Dj Young LeF a concocté une mixtape qui devrait
vous aider à commencer la semaine et ses températures hivernales!
Au programme de cette M CITY RADIO VOL.1 :
Conway,  El Camino, Rock, Camron, Dave East, Fred the Godson,
Vado, The Lox, Evidence, Benny the Butcher etc…
SUPPORT!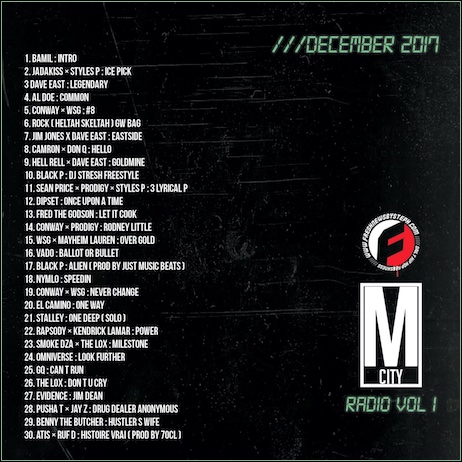 Dernière mixtape de Benny The Butcher de la team Griselda
hosted by DJ Green Lantern!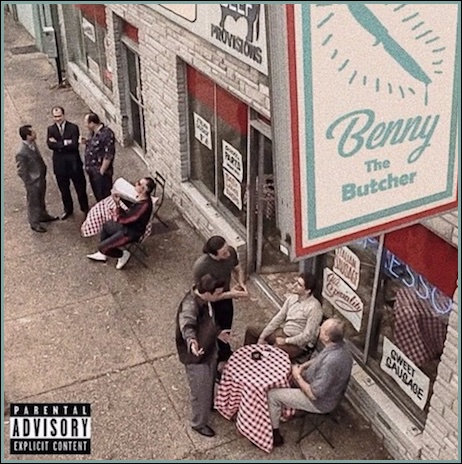 LA soirée REMINISCE revient le vendredi 10 novembre au BIZZ'ART pour les inconditionnels de musique RNB, NEW JACK & NU SOUL.
Pour cette opus nous avons l'honneur d'invité HASHEEM en Dj Set pour le plus grand plaisir de vos oreilles.
Les dj's distilleront les incontournables du genre : TLC, Aaliyah, Bobby Brown, SWV, Janet Jackson, Montell Jordan, Dwele, D'Angelo, Mary J Blige, Angie Stone, Raheem Devaughn, Usher, Boyz II Men , Blackstreet , Donell Jones …
Pour l'occasion DJ Trem a concocté un mix dispo sur djpod.com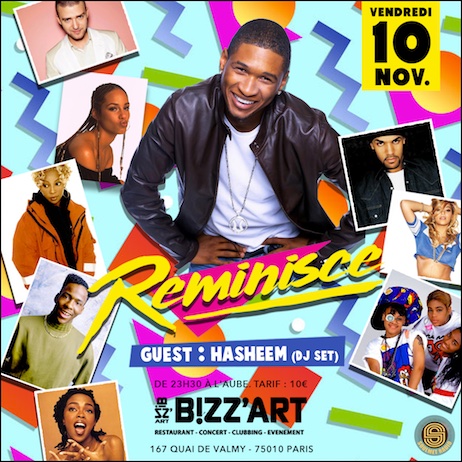 + D'INFOS SUR LE FACEBOOK EVENTS
Ce clip extrait du projet The Best Kept Secret de Shorty BX 
(actuellement dispo en téléchargement gratuit sur Datpiff.com)
nous permet de voir que le sous-estimé D Flow (Ghetto Dwellas)
est encore vivant! On croise les doigts pour que ça ne s'arrête pas là!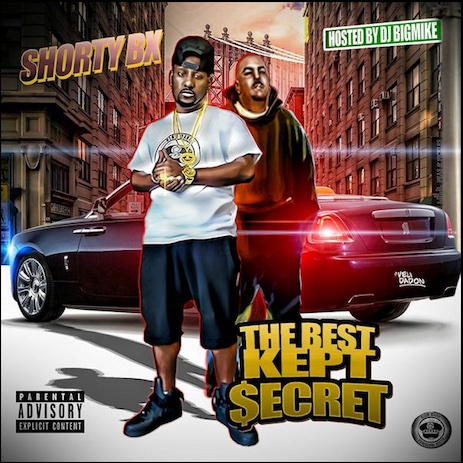 La mixtape More Steroids de DJ Green Lantern & Conway 
est enfin dispo en téléchargement sur DatPiff.com.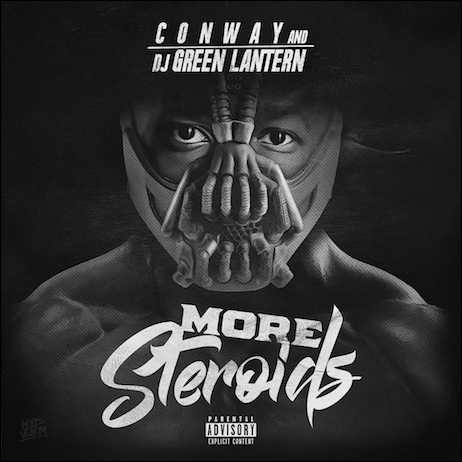 Le poto DJ Suspect vient de balancer sa dernière mixtape
pour tous les amoureux du rap 90's. Au programme une sélection
rigoureuse le tout mixé avec minutie et précision!
C'est dispo en téléchargement gratuit sur son Soundcloud
donc aucune raison de bouder son plaisir…GO & GET IT!!!
-FULL SUPPORT-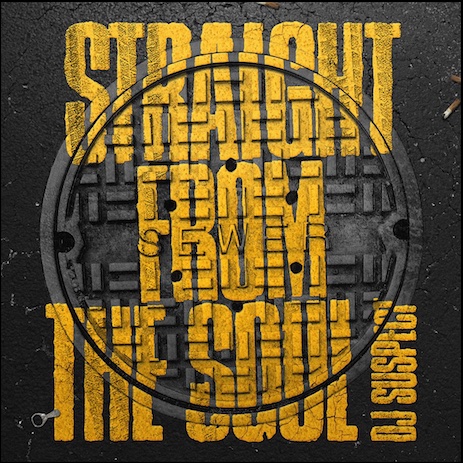 Pour mes QB addicts, la compilation Queensbridge United
est enfin disponible gratuitement ici.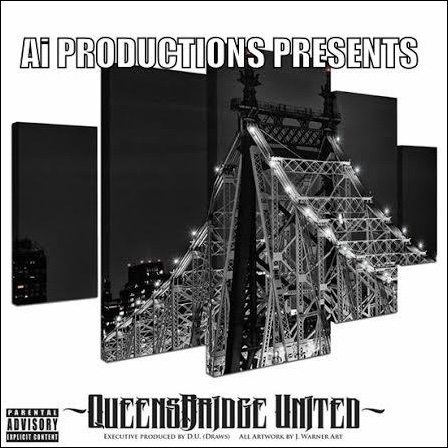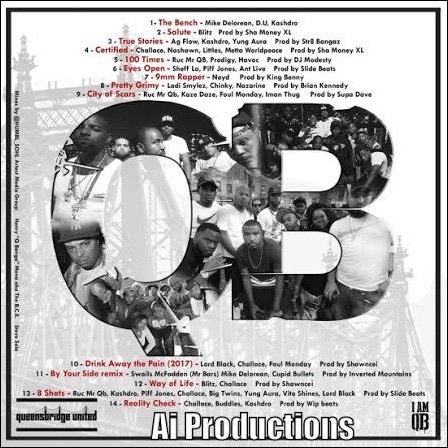 DISPO EN TÉLÉCHARGEMENT GRATUIT ICI 
Pour ceux qui ne connaissent pas encore le groupe canadien
Citizen Kane c'est le moment de vous rattraper avec leur dernier
clip extrait de la compilation M.I.C. (Made In Canada) V10 
mixée par DJ Law (dispo en freedownload ici)
DISPO EN TÉLÉCHARGEMENT GRATUIT ICI

Extrait de la mixtape de Sha Ef intitulée Out The Mud
avec un Feat. de Prodigy (RiP) enregistré avant sa mort.
Out The Mud est dispo en téléchargement sur iTunes.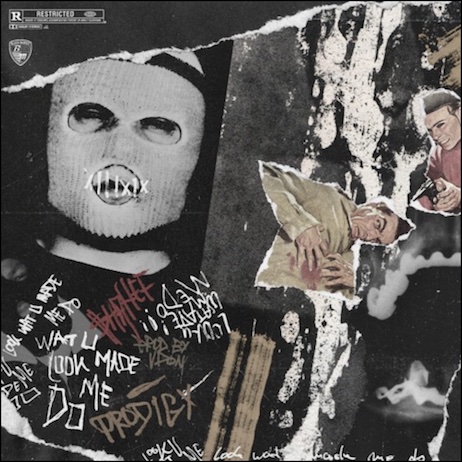 Mysonne le MC du Bronx est de retour avec une nouvelle mixtape
intitulé The Freestyles dispo en téléchargement sur DatPiff.com.
Dans ce nouveau clip il pose sur le Rather Unique de AZ.