1er clip extrait du prochain EP de Smif N Wessun intitulé Born and Raised
qui sortira le 03/12 et qui sera à forte influence reggae. Hâte d'écouter ça!
Chip-Fu (Fu-Schnickens) revient avec une nouvelle mixtape en
attendant la sortie de prochain album « War Paint » prévu pour 2013.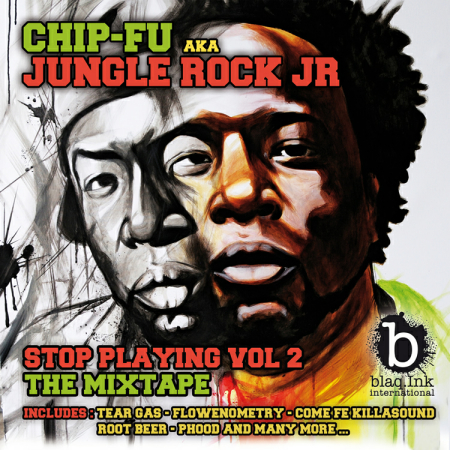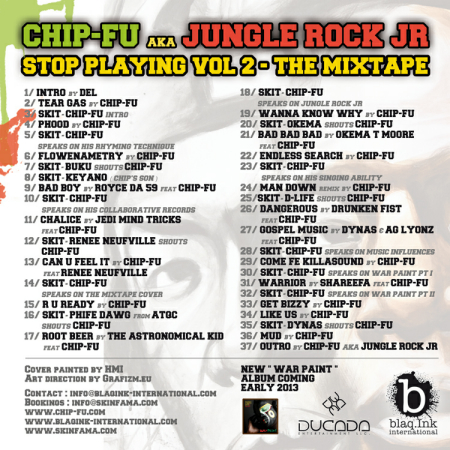 DISPO EN TÉLÉCHARGEMENT GRATUIT ICI
Pour ce Throwback Maxi CD #53 j'ai choisi un maxi datant de 1995
d'un artiste qui n'a pas fait carrière Whitey Don. Signé chez Jive, il n'a
fait qu'un album « Whitey Don » sorti en 1997 dont ce maxi est extrait.
Ce titre avait pas mal tourné à l'époque surtout grâce à la présence de
Phife (A Tribe Called Quest) et Chip-Fu (Fu-Schnickens).
Pour les collectionneurs l'album tourne sur Amazon.com à $89!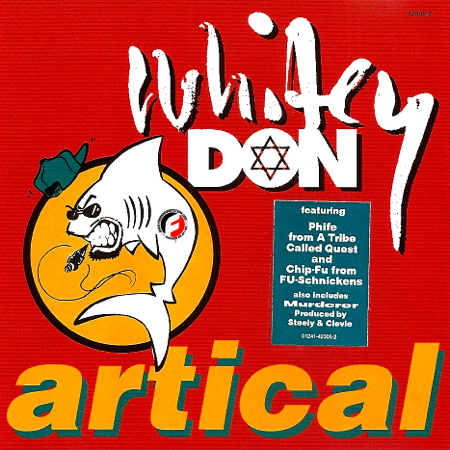 tracklist
Artical (Original Posse Radio Mix)
Murderer
Artical (Steely & Clevie Posse Remix)
Artical (Niles Posse Remix)
Artical (Original Solo Mix)
DISPO EN TÉLÉCHARGEMENT ICI
Ci-dessous le clip, hélas pas de super qualité :
BACK AGAIN!
Les Raggasonic sont de retour après 15 ans d'absence avec un
nouvel album intitulé « Raggasonic 3 »qui sortira le 15 octobre.
En attendant le single est dispo en téléchargement payant sur iTunes.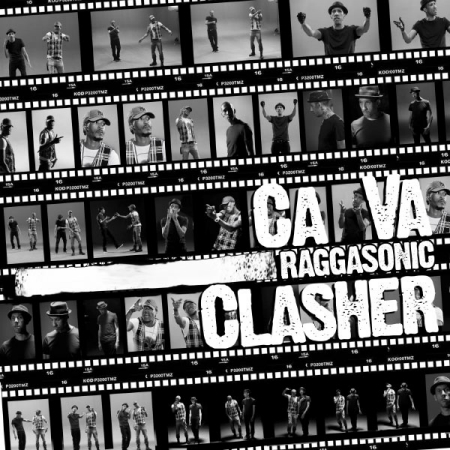 J'étais déjà dans une ambiance « jamaïquaine » donc ce morceau
de Pace Won & Mr Green tombe plutôt bien. Hélas ce n'est
pas un nouveau titre extrait de leur très attendu
« The Only Number That Matters Is Won » qui devrait
finalement arriver début septembre. Cet inédit est extrait
de la mixtape « Free Shabazz 2 » qui sera dispo le 26/06.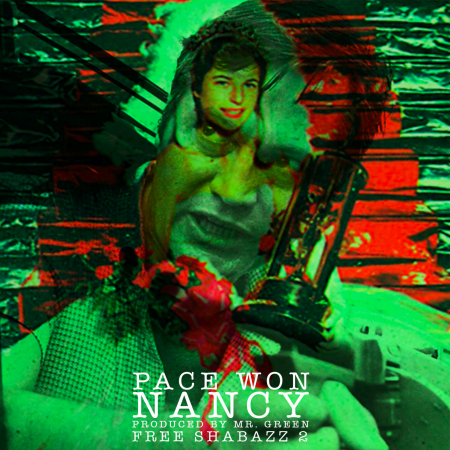 PACE WON
« NANCY« 
(PROD BY MR GREEN)
Un nouveau documentaire consacré à Bob Marley réalisé par
Kevin MacDonald sortira au mois d'avril. Après visionnage
du trailer ça à l'air d'être sérieux. Hâte de voir ça!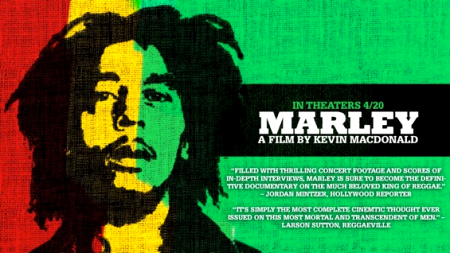 J'avais posté le son ici, voici le clip « hommage » composé d'images,
de concerts et de photos. Son album posthume composé d'inédits
« Lioness Idden Treasures » est toujours prévu pour le 5 décembre.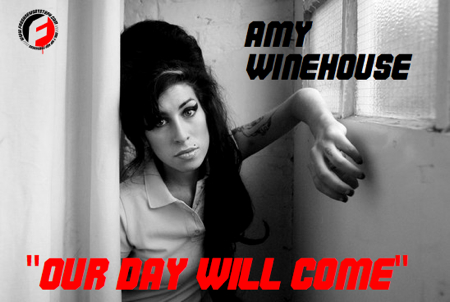 2ème extrait de l'album posthume d'Amy Winehouse avec la reprise
reggae d'un standard du doo-wop de Ruby & The Romantics produit par
Salaam Remi et enregistré en 2002. « Lioness : Hidden Treasures »
est toujours prévu pour le 5 décembre prochain.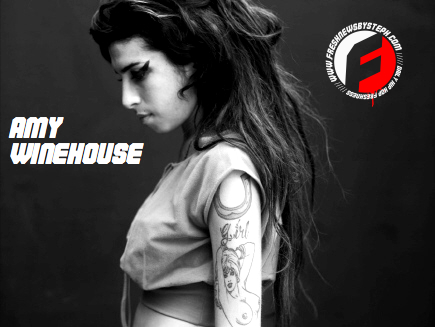 AMY WINEHOUSE
(vu sur FunkU.fr)
Nouveau clip extrait de  « Distant Relatives » toujours dans les bacs!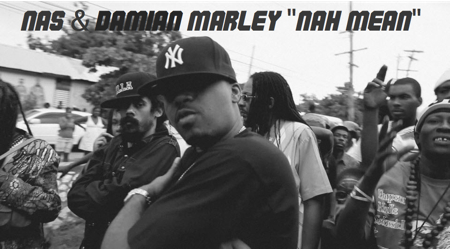 Nouveau clip extrait de  « Distant Relatives » toujours dans les bacs!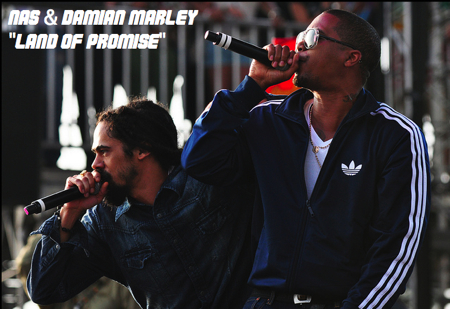 Nouveau clip extrait de trés bon « Distant Relatives » projet
commun entre Nas & Damian Marley. Malgré son succès modeste
cet album mérite largement l'écoute, il est toujours dans les bacs…
Ils seront en concert le 5 avril au Zénith de Paris.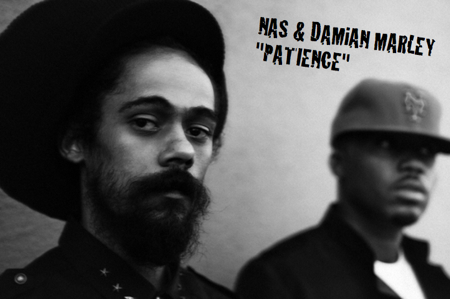 Le site US HipHopDX vient de balancer une mini série de 3 vidéos
sur le voyage de Nas & Damian Marley en Jamaïque (+ d'infos ici)
A noter qu'ils seront de nouveau en concert au Zénith de Paris
le mardi 5 avril (places dispo sur Fnac.com).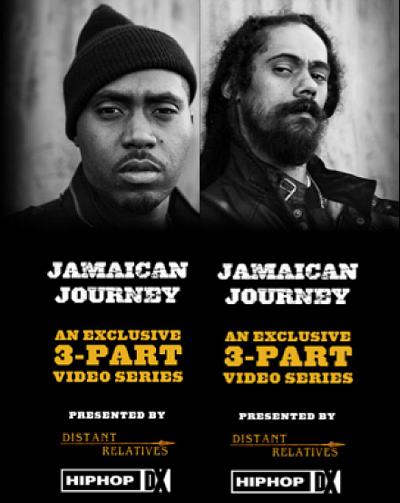 Part I
« Hope Road is the first film and is the story of that first night. I remember before I even had a chance to set the camera up right Nas was like "Yo, yo film this… " and launched into the whole speech he gives here about "Smokin' Cubans on the steps of Bob Marley…" from there on I knew I had to keep the camera up and ready to go. Please wait for the little surprise after the credits… Dawn on Hope Road. »
Part II
« Dubplates at Tuff Gong, is Part Two. On the third night Damian and Stephen Marley went to work over a new Stephen song called 'Jah Army.' The song is pure heat. Dubplates are the stock and trade of the Jamaican musician. Tuff Gong itself is a place filled with so much history as Stephen explains to Nas at the beginning – even Bunny Wailer made an surprise appearance. »
Part III
« Trenchtown Rock is the day of the video shoot. Kassa and his crew were in full effect by the time I got there. To shoot with Nas in Trenchtown is a special thing. We got a tour of the house where Bob learned to play guitar, the kitchen where Ziggy was conceived – barely as big as a closet. And then there was the faces and people, such a strong spirit. It is really no shock in the end that so many incredible musicians came from Trenchtown. »
Pour la pochette et le couplet de Nas!
C'est extrait du nouvel album de Spragga Benz
intitulé « Shotta Culture » qui sort demain.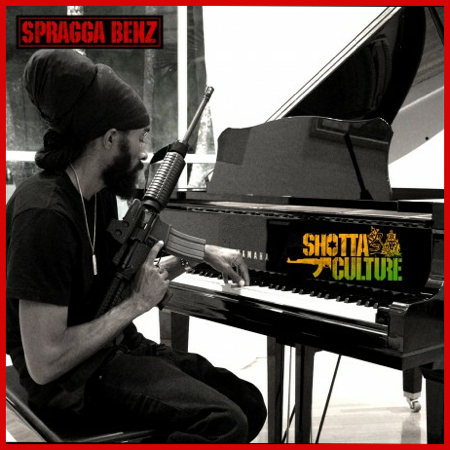 SPRAGGA BENZ feat NAS
(PROD BY SALAAM REMI)