En recherchant des scans pour ma rubrique je suis tombé sur ce visuel
dans un The Source de 1998 annonçant la sortie d'un 2ème album du
groupe Rough House Survivors. N'ayant aucuns souvenirs d'avoir
écouté ce disque j'ai fais quelques recherches et il y a bien eu un maxi
vinyl et un CD contenant 3 titres, mais l'album qui devait s'intituler
« Survival Of The Fittest » n'est finalement jamais sorti!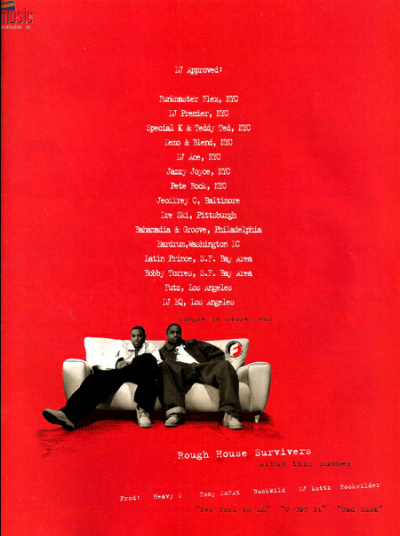 Voici le rip du maxi CD avec 2 titres produit par Rockwilder :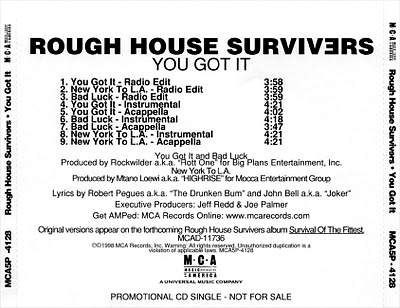 (pour les collectionneurs le CD est encore dispo sur Amazon.com)
MAXI DISPO EN TÉLÉCHARGEMENT ICI
Et pour ceux qui ne connaissent pas ce groupe je vous conseille
fortement l'écoute de leur unique album « Straight From The Soul »
datant de 1992 qui est encore trouvable en CD à partir de 12,49$
sur Amazon.com.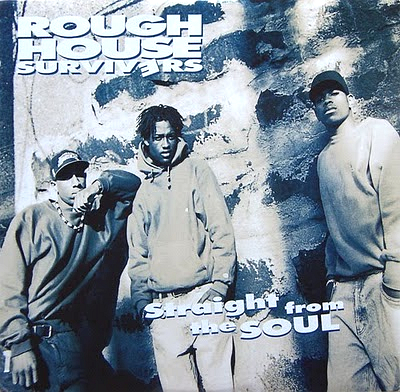 Vous trouverez ci-dessous le clip du titre « Rough House » dans une
très bonne qualité puisque « uploadé » par le réalisateur lui-même!
Once again…merci au poto Jee Van Cleef pour avoir fouillé
dans sa collection pour me riper son CD!