Comme son titre l'indique…GROSSE SURPRISE!
Je viens d'écouter l'album « The Element Of Surprise »
de Rashad & Confidence et j'ai pris une claque.
Un MC, un beatmaker formule simple, sans fioritures
ici on va à l'essentiel…PURE HIP-HOP!
Ca sort sur le label Ill Adrenaline Records déjà responsable
en début d'année de la sortie de l'excellent « Sidewalk Science »
de Beneficence qui est hélas passé un peu inaperçu.
On arrive en décembre et cet album arrive direct dans
mon top 10 de cette année 2011,c'est sorti hier…SUPPORT!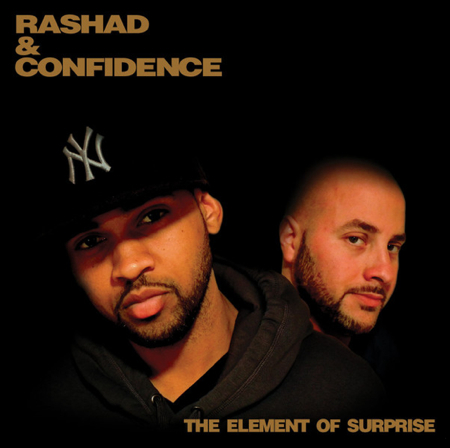 « The Element Of Surprise » est dispo en CD
Histoire de vous convaincre voici deux morceaux exraits de l'album :
RASHAD & CONFIDENCE
« THE CITY« 
SAMPLER :
thanks to Hans!