La première grande soirée Hip-Hop de la rentrée se déroule le vendredi 19 octobre 2012, à partir de minuit au Nouveau Casino !
L'invité d'honneur cette nuit là : le légendaire « DJ PREMIER » pour un set « classic Hip Hop » comme il en a le secret.
On ne présente plus Dj Premier, aka « Primo », Dj, producteur, un véritable mythe dans le monde du hip-hop, à l'origine des beats les plus légendaires du rap East Coast. Pour rappel, Primo a bossé avec les plus grands : M.O.P, Big L, Nas, Mobb Deep, Rakim, Jay-Z, ou encore Krs-One, etc. Mais Primo c'est aussi la moitié complémentaire avec Guru (R.i.p), de l'immense groupe « Gang Starr ».
Sur scène, pour l'accompagner, trois pionniers du rap indé américain : Freddie Foxxx, Rasco, et Shabazz The Disciple, ainsi qu'un rappeur français prometteur, Kaot'f.
Faut-il encore les présenter ?
Freddie Foxxx, aka Bumpy Knuckles, un des membres du « Gang Starr Foundation Crew », s'est fait connaître sur la scène indépendante au tout début des années Boom-Bap, avec un style bien à lui, un flow incisif, une voix rocailleuse et des rimes hardcore.
Rasco, un rappeur indé de la west coast, membre du groupe « Cali Agents » avec Planet Asia. Rasco, qui a été l'un des premiers rappeurs à signer chez le prestigieux label Stones throw Records, avec le groupe « Chill As I Flex ».
Shabazz The Disciple est l'un des fondateurs de Sunz of man. Il fut tout d'abord repéré lors de son apparition dans le single des Gravediggaz en 1994 : « Diary of a Madman ». Shabazz a notamment collaboré avec le Wu Tang et a sorti une poignée de grands singles tels que « Death be the Penalty » ou « Crime Saga ».
Le Rappeur français : Kaot'F, qui oeuvre depuis 94 dans le monde du Hip-Hop.
Kaot'F, c'est l'un des membres du groupe Ekinox. En solo aujourd'hui, il collabore notamment avec Shabazz The Disciple ou Rasco dans son nouvel album intitulé « L'écoute et l'entente » prévu pour Novembre 2012.
Venez danser sur les sons de Dj Premier, un show inédit hosté par Bumpy Knuckles et une première partie avec des invités de marque ! « Première Classe Hip-Hop » c'est le vendredi 19 octobre 2012, au Nouveau Casino, à partir de minuit.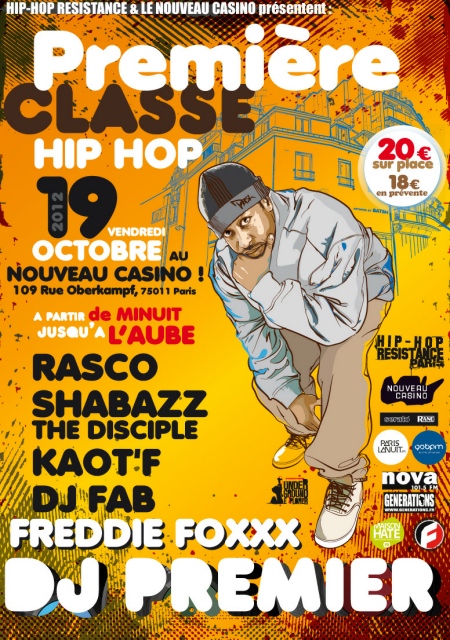 PLACES DISPO SUR

FNAC.COM