Le Batofar présente :
☰ LORD FINESSE (D.I.T.C.) feat. DJ BOOGIE BLIND (X-ECUTIONERS) – LE DIMANCHE 8 DÉCEMBRE 2013 À 19H30
☰ LORD FINESSE (D.I.T.C.)
Né dans le Bronx sous le nom de Robert Hall, Lord Finesse pose son premier pied dans le hip hop au début des années 80 et commence le rap à l'âge de 14 ans. Il se présente à l'industrie musicale à l'été 1989 en tant que candidat au New Music Seminar dans la célèbre New Music Seminar Rap Battle for Supremacy. Même s'il ne remporte pas cette compétition, il se fait remarqué quand il bat au premier round Mikey D., le champion en titre.
Lord Finesse est un des membres fondateurs de la légendaire Diggin' in the Crates, aussi connu en tant que « The Ace of Trades ». ll obtient ce titre en se positionnant comme un parolier respecté, un producteur hors pair et un technicien virtuose du turntablism. Quand son planning chargé lui permet, on peut apercevoir Lord Finesse dans les clubs de New York City. Et peu de gens le savent, il est aussi à l'origine de la découverte du légendaire Big L de Harlem.
A ce jour, Lord Finesse a sorti 4 albums, « The Funky Technician », « The Return Of The Funkyman », « The Awakening » et « From The Crates To The Files ». A travers les années, il a sorti et a fait des apparitions sur de très nombreux singles. Sa voix peut aussi être entendue sur le fameux Rockerfella Shank de Fat Boy Slim. En tant que producteur, on compte à son crédit des artistes comme Notorious Big, Big L, Dr Dre, Fat Joe, Capone and Noreaga, Vinny Paz pour ne citer qu'eux.
AVEC LE SUPPORT DE :
DJ BOOGIE BLIND (X-Ecutioners)
☰ LIEN PRÉVENTES
Tarif préventes : 18€ (hors frais de com)
Tarif sur place : 22€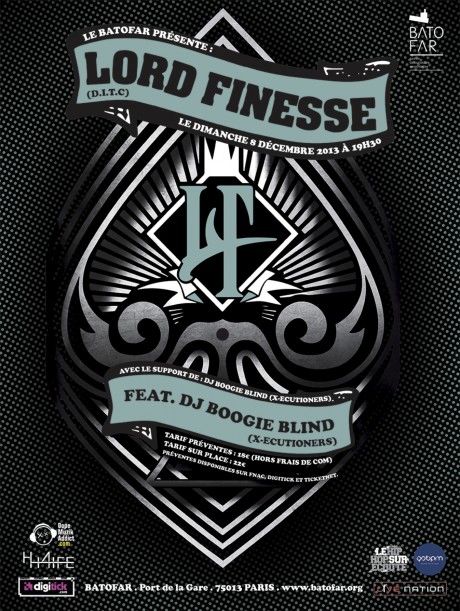 PLACES DISPO SUR FNAC.COM & DIGITICK.COM