Le poto Jérôme Thomas a réalisé un documentaire intitulé
Sky's The Limit qui raconte l'histoire du muralisme moderne.
Le muralisme étant une discipline du street art où les peintres
réalisent des fresques monumentales sur des immeubles.
Après avoir parcouru les festivals et projeté son documentaire
un peu partout en France, il a décidé de poursuivre l'aventure
Sky's The Limit avec un bouquin sous forme de carnet de bord
qui retrace ses cinq années passées à documenter cette nouvelle
forme d'art public.
Pour l'aider à sortir son livre en total indépendance, un campagne
KISSKISSBANKBANK a été mis en place et vous pouvez y participer
en apportant vos dons sur le site Kisskissbankbank.
SUPPORT!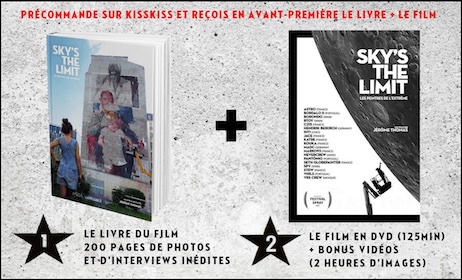 A noter qu'une projection du documentaire a lieu ce soir au Café A
(148 rue du Faubourg Saint-Martin à Paris) de 19h à 20h.