Published

16th Sep 2019

by

Tonton Steph

under

concert
▆ Rah Digga et Bahamadia DATE UNIQUE EN FRANCE ▆

2H de show pour les puristes du rap underground dont leur feat « BE OK » EN EXCLUSIVITE LIVE !
Vous allez vivre ce moment unique , celui qui n'a existé nulle part dans le monde si ce n'est en studio !!
« Be Ok » https://www.youtube.com/watch?v=9Pt43-0pI5o a reuni Rah Digga et Bahamadia le temps d'un feat d'une force incroyable !!
La Philadelphie terre de naissance de cette Mc qui représente l'undergound HH féminin !
Bahamadia signée chez le label indépendant Goodvibe aura déposé son emprunte avec le fameux BeQueen qui l'a propulsée en haut des classements HH à l'échelle mondiale
https://www.youtube.com/watch?v=BKrVX6iJh4g
Citer tous les noms des artistes avec lesquels elle a enregistré prendrait quelques pages (!!) mais parmi eux the Roots ,Roni Size, Towa Tei, Brand New Heavies, The Herbaliser, Morcheeba, Slum Villag etc.. et bien sûr Rah Digga………
Rah Digga , membre sacrée du crew de Busta Ryhmes Flipmode Squad, a tout simplement marqué tous ceux présents le 9 mars dernier lors de son passage à Paris, en lâchant toute l'énergie de son flow, de sa voix et de cette prestance qui fait d'elle un personnage unique dans l'univers Hip-Hop .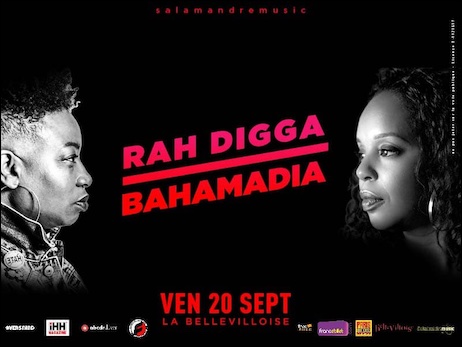 PLACES DISPO SUR FNAC.COM