Les producteurs allemand JR & PH7 s'apprêtent
à sortir leur album « The Update » chez Soulspamz Records.
On retrouvera dessus, Sean P, Evidence, Torae, Edo. G,
Termanology, Rasco, Trek Life, L.E.G.A.C.Y, Oddisee, etc…
A l'écoute de ce morceau l'album s'annonce bien.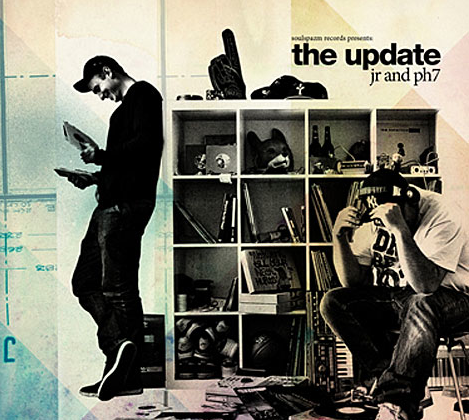 JR & PH7
feat EVIDENCE & L.E.G.A.C.Y
« BOW DOWN« 
tracklist :
1. Intro
2. Bow Down feat. Evidence and L.E.G.A.C.Y.
3. Real Soul feat. Caucasian
4. Do It For You feat. Torae
5. Microphone Fiends feat. Edo. G and Termanology
6. Freedom feat. Bambu, Rasco and Trek Life
7. Hustle and Flow feat. Oddisee and Olivier Day Soul
8. She Loves Me feat. Shawn Jackson
9. Let's Get It feat. Rasco
10. Persuasion feat. Olivier Day Soul and Sean Price
11. Echoes feat. Access Immortal
12. Touch The Sky feat. Strange Fruit Project
13. I'm Okay feat. Kaydee and Rachel Scharnberg
14. The City feat. Frank-N-Dank and Elzhi
15. We Live feat. Theory Hazit
16. From LA To The World feat. Trek Life
17. Change feat. Buff1 and Larissa Sirah