D'Angelo était l'invité samedi soir de l'émission américaine
Saturday Night Live ou il a joué 2 titres live (Really Love &
The Charade) accompagné de son groupe The Vanguard
avec Jesse Johnson (guitare), Pino Palladino (basse)
John Blackwell (batterie) & Kendra Foster (choeurs)
Il sera en concert à Paris le 16/02 au Palais des Congrès.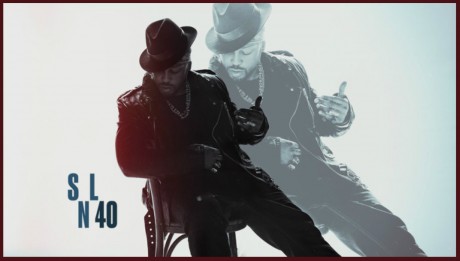 Le classique Only Built 4 Cuban Linx aura 20 ans cette année,
pour l'occasion un documentaire intitulé Purple Tape Files reviendra
sur l'enregistrement et la création de l'album de Raekwon.
Pas encore de date de sortie mais voici le 1er trailer…ENJOY!
PS : pour recevoir les news concernant le doc vous pouvez
laisser votre adresse mail ici.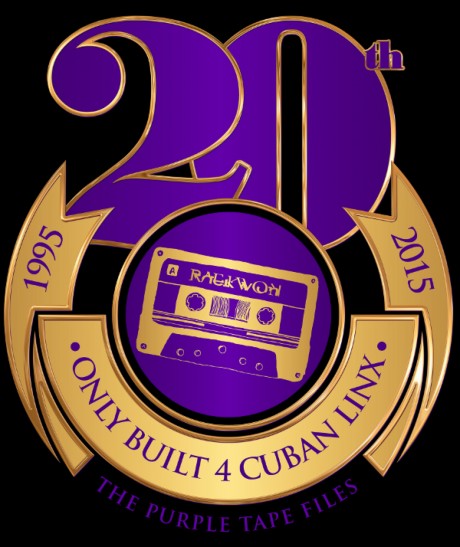 BONUS  : DAYTONNA 500 LIVE @ VICE 20's Birthday
Thanks Tranber pour l'info!
Pre-Magnum Opus, le nouvel album de Tragedy Khadafi
est disponible depuis hier en téléchargement via iTunes.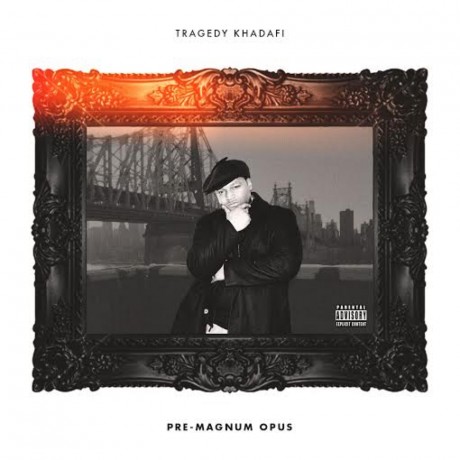 Silk Pyramids, l'album commun de Meyhem Lauren & Buckwild
est dans les bacs (dispo à 12,90€ en import CD chez Gibert Joseph Paris)
Voici 2 extraits vidéos de la soirée de lancement de l'album qui a eu lieu
il y a quelques jours au Webster Hall.

Pour tous les kiffeurs de James Brown téléchargez d'urgence
ce mix réalisé il y a quelques jours sur Soundwaves Radio par
DJ Rhettmatic (Beat Junkies) sur le principe du sampleur/samplé
entièrement consacré au Godfather Of Soul (R.I.P).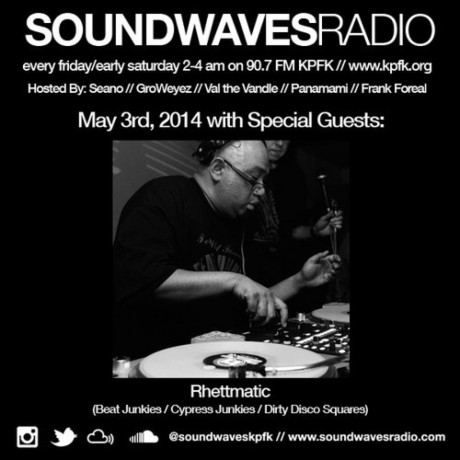 Tracklist :
1. James Brown Intro
2. (It's Not The Express) It's The J.B.'s Monourail – The J.B.'s
3. Real Mutha For Ya – Dj Cash Money & Marvelous
4. Papa Take No Mess – James Brown
5. Vapors – Biz Markie
6. Givin' Up Food For Funk Pt. 1 – The J.B.'s
7. Funky Drummer – James Brown
8. Blind Man Can See It – James Brown
9. They Want EFX – Das EFX
10. Hot Pants – James Brown
11. Rockin' Funky Watergate – Fred Wesley & The New J.B.'s
12. Pay Ya Dues – Low Profile
13. Talkin Loud & Sayin Nothin – James Brown
14. More Peas – The J.B.'s
15. Soul Clap – Showbiz & AG
16. Phunky Feel One (Inst) – Cypress Hill
17. Hot Pants Road – The J.B.'s
18. Fight The Power – Public Enemy
19. Get Up On The Good Foot – James Brown
20. Raw – Big Daddy Kane
21. Hot Pants (I'm Coming, I'm Coming) – Bobby Byrd
Agallah a connu plusieurs vies dans le rap game depuis son
apparition en 1992 dans la fameuse rubrique Unsigned Hype
du magasine The Source (voir plus bas). Il fait presque figure
de survivant aujourd'hui, mais il ne lâche jamais l'affaire et continu
d'être super productif. Voici un extrait de son dernier projet
en date intitulé Agalito'sWay : The Life Of Don Francis
…COMING SOON!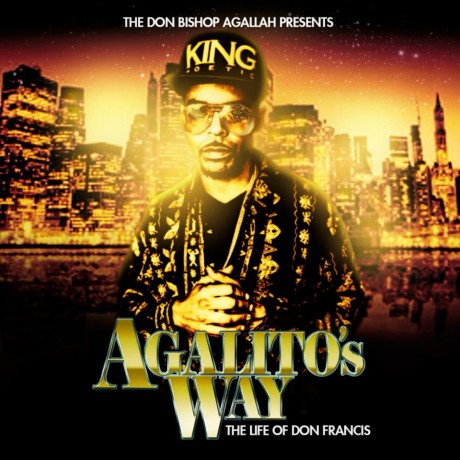 DISPO EN TÉLÉCHARGEMENT GRATUIT ICI
BONUS :
Il a balancé via son twitter cette vidéo récente d'un concert ou il partage
la scène avec Sean Price. Le son est dégueulasse mais leur préstation
est bouillante…ENJOY!
Ci-dessous sa 1ère apparition dans le magasine The Source
daté de novembre 92….ARCHIVE!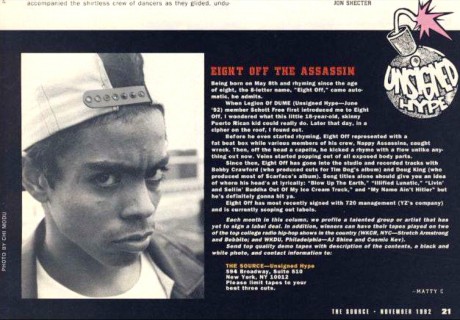 DISC'O'GRAFFIC #15 Spéciale « interdit aux bâtards » le 28 février 2014 aux Disquaires avec vente du livre + séance de dédicaces.
En Live le groupe Horndogz (Funk),
l'expo c'est Papa Mesk et Pict (UTP) et aux platines
Tha Loose Brotherz Dj's
Alors Bloques ta soirée et viens !!!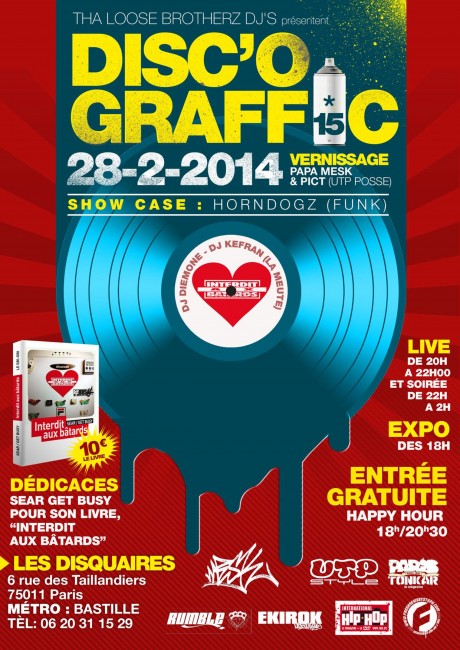 Ça faisait un bail que je n'avais pas inséré dans ma platine le CD
de The Score des Fugees. L'overdose médiatique de l'époque
provoquée par son énorme succès commercial (en faisant l'un
des albums rap les plus vendus de tous les temps) m'avait éloigné
de ce skeud pendant des années. C'est en tombant par hasard
sur cette video d'un concert des Fugees en 1995 dans une
petite salle de Brooklyn appelée The Ark (qui n'existe plus!)
que je me suis rappelé de l'incroyable énergie que ces 3 là
pouvaient dégager sur scène! J'ai eu la chance de les voir en
1996 à l'Elysée Montmartre et ils avaient retourné la salle!
Bref, cette semaine The Score va tourner dans mon iPhone!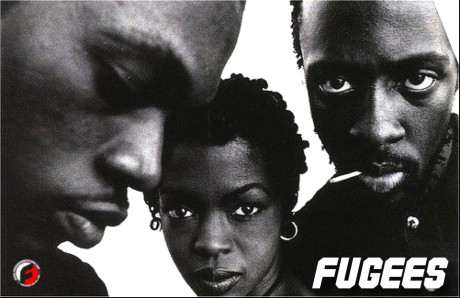 Je n'avais jamais vu ces images donc je partage!
Killing Me Softly Live @ Later With Jools Holland Juin 1996
Live @ MTV 1996
Ci-dessous ma place du concert des Fugees du 28/05/96…ARCHIVE!!!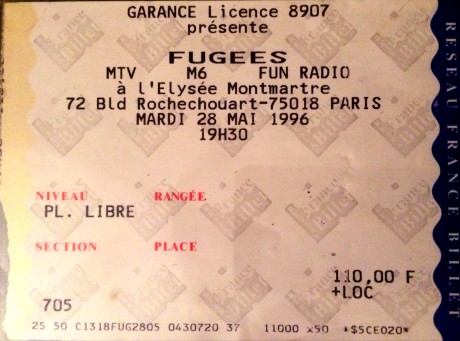 L'album des Step Brothers est maintenant dans les bacs
et pour promouvoir sa sortie Evidence & The Alchemist sont
actuellement en tournée européenne (qui hélas ne passe pas par Paris)
La 1ère date a eu lieu le 16/01 au Melkweg à Amsterdam
et à défaut de ne pas avoir pu y aller voici une video de 20 mn du show!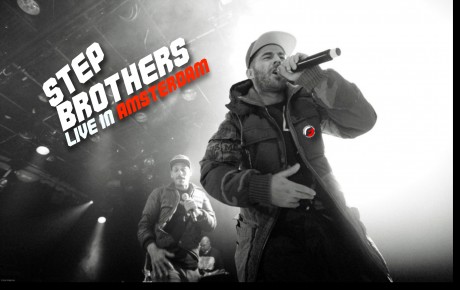 (photo by Brian Krijgsman)
Version live du Incarcerated Scarfaces de Raekwon avec The Roots
enregistré il y a quelques jours au festival Okayplayer Holiday Jam.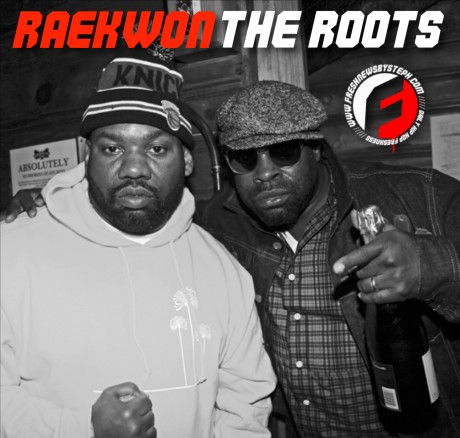 Second clip extrait de Born And Raised, le nouveau EP
des Smif-N-Wessun qui ont décidé de revenir aux racines
avec un EP 100% reggae! C'est dispo depuis aujourd'hui
en téléchargement sur iTunes ou en édition collector
chez Duckdown.com.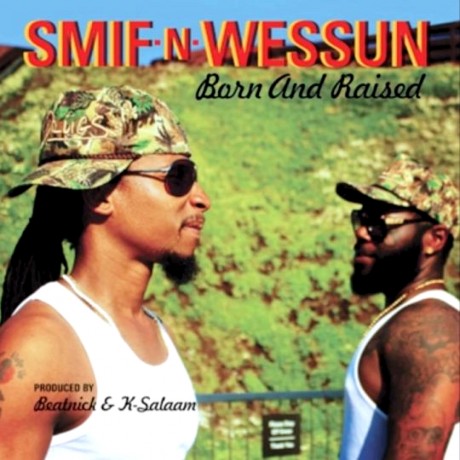 + Shots in the Dark (LIVE)
Comme Rock The Bells, le festival A3C d'Atlanta fait parti
des gros événements Hip Hop de l'année aux États-Unis.
Voici deux vidéos live du showcase Man Bites Dog Records
avec Roc Marciano (devenu l'un des boss du label)
et sa 1ère signature AG Da Coroner.