Femme Fatale le 1er album solo de la rappeuse Marquee
vient de sortir chez Marvel/Shinigamie Records.
L'album est entièrement produit par Ninjustice (Venom+Kyo itachi)
et Lord Finesse. On retrouve dessus des Feat de featuring Monifah,
Nature, Prince Po (Organized Konfusion), Bankai Fam…
Dispo en CD chez Gibert Joseph Paris & sur Bandcamp.
SUPPORT!
Nouvel extrait de Which Way Iz West le prochain album
de MC Eiht qui sortira le 30/06/17.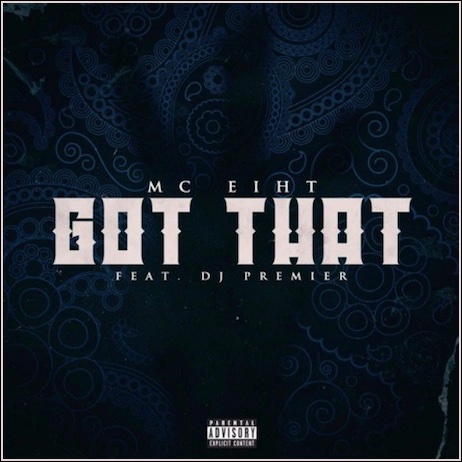 A défaut d'avoir un nouvel album de Cypress Hill voici le clip
de leur dernier titre extrait de la B.O.F. de Grow House 
dispo sur toutes les plateformes de téléchargements.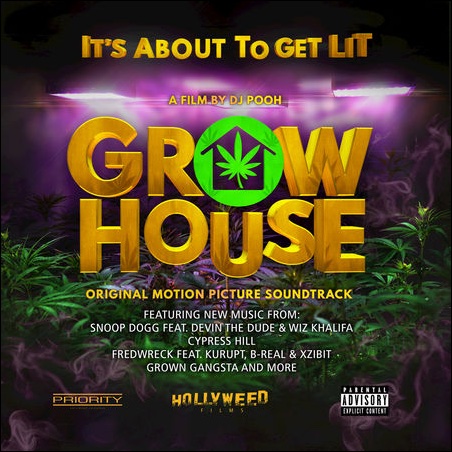 1er clip extrait de The Great Red Spot le 1er album du collectif
de beatmakers Jupiter A.K.A. (Astronote, Kyo Itachi & Azaia)
actuellement dispo en CD sur Bandcamp et chez Gibert Joseph Paris.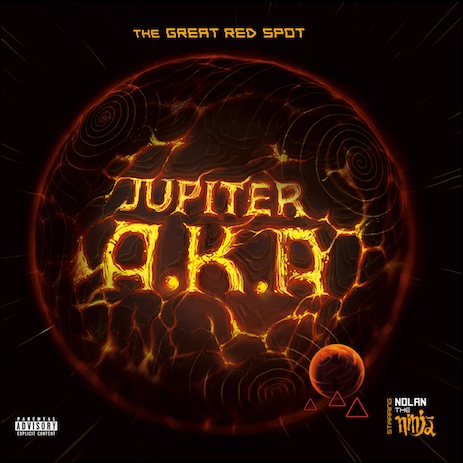 Extrait de Hell On My Back: Heaven in My Wake 
le nouvel album de Mic Handz dispo en CD & Digital sur Bandcamp.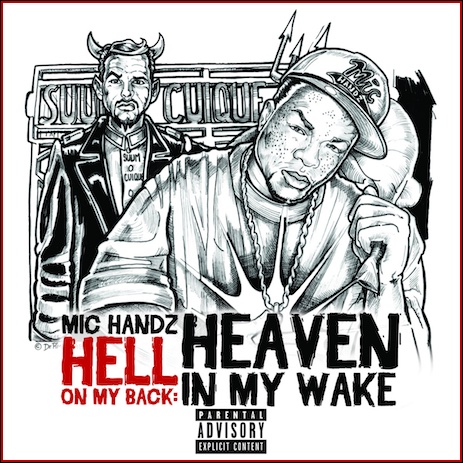 Nouveau PackFM produit par UG des Cella Dwellas!
MP3 dispo en téléchargement gratuit sur son Bandcamp.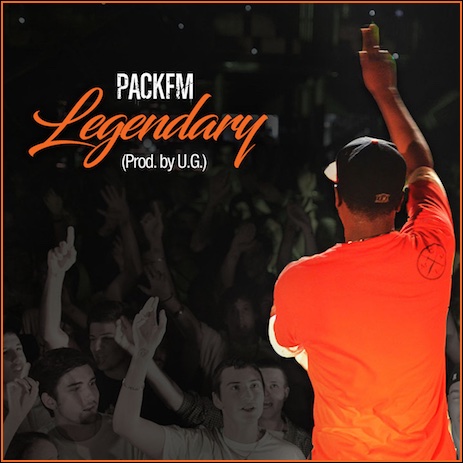 Mysonne le MC du Bronx est de retour avec une nouvelle mixtape
intitulé The Freestyles dispo en téléchargement sur DatPiff.com.
Dans ce nouveau clip il pose sur le Rather Unique de AZ.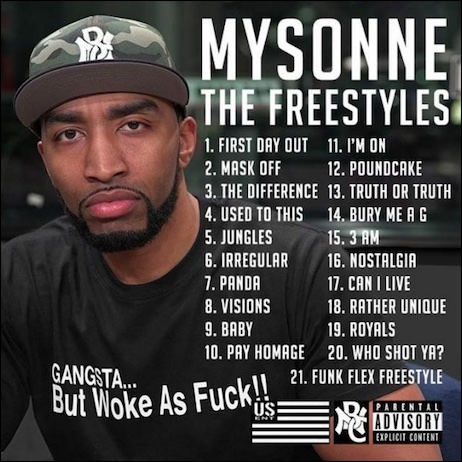 Camp Lo & Tash (Alkaholiks) réunis sur le même track
extrait de The Architect Presents: MasterPiece Theater
dispo depuis quelques jours en téléchargement sur Amazon.com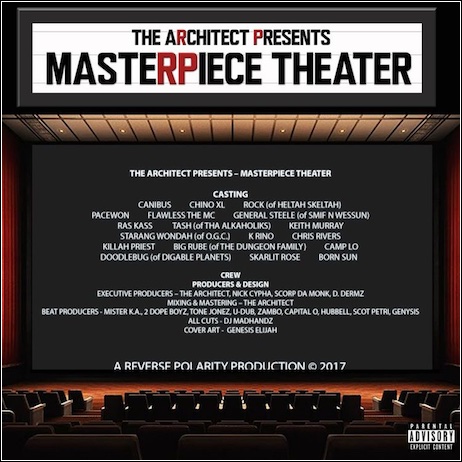 Nouvel extrait du EP Free Enterprise le projet commun de
Supreme Cerebral & Nowaah The Flood entièrement produit par Kurse.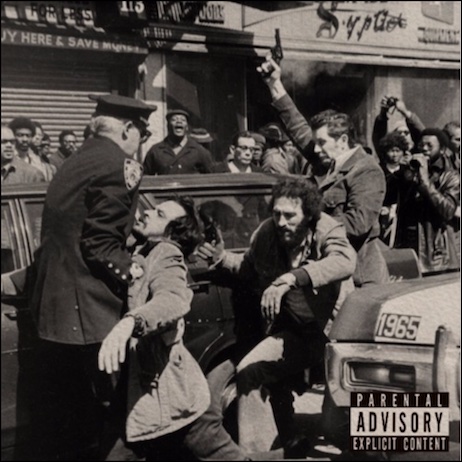 Showbiz & A.G. « Take It Back »
CD:11.99€
Kool G Rap « Return Of The Don »
CD:11.99€
Molecules & Showbiz « A Bronx Tale »
CD:10.99€
LP:13.99€
Nsight & Damu The Fudgemunk « Ears Hear Spears »
CD:11.99€
LP:19.99€
Jupiter A.K.A. « The Great Red Spot »
CD:12.87€
Blacastan & Stu Bangas « The Uncanny Adventures of Watson & Holmes »
CD:13.99€
LP:17.99€
Junior Makhno « Party Discipline »
CD:11.99€
LP:15.99€
Brother Ali « All The Beauty In This Whole Life »
CD:13.99€
LP:28.99€
Slum Village « Vol. 0 »
CD:11.99€
LP:18.99€
Roc Marciano « Rosebudd's Revenge »
CD:11.99€
LP:20.99€
Non Phixion « The Future Is Now » (Re-Issue)
CD:11.80€
Joey Badass « All Amerikkkan Badass »
CD:13.99€
LP:23.99€
Jonwayne « Rap Album 2 »
CD:11.99€
LP:17.99€
Faith Evans & The Notorious B.I.G. « The King & I »
CD:14.99€
Stik Figa « Central Standard Time »
CD:10.99€
J Dilla « Motor City »
CD:11.99€
LP:19.99€
J Dilla « Jay Dee aka King Dilla »
LP:15.99€
Raekwon « The Wild »
CD:11.99€
LP:16.99€
DangerDOOM « The Mouse and The Mask: Metalface Edition »
CD:11.99€
3LP:28.99€
Blahzay Blahzay « Blah blah blah »
LP:24.99€
Childish Gambino « Awaken, My Love! »
LP:56.99€
Wu-Tang Clan « Enter The Wu-Tang (36 Chambers) »
Box 45T:60.99€
Tim Dog « Penicillin On Wax »
LP:23.99€
Marco Polo « Baker's Dozn »
LP:16.99€
Freddie Gibbs « You Only Live 2wice »
LP:13.99€
DJ Spinna « 1996 Beat Tape Vol. 1 »
LP:19.99€
Self Provoked « Triangles »
LP:17.99€
Ahwlee « 1991 »
LP:14.99€
Ras G « The Gospel Of The God Spell »
LP:15.99€
THANKS 2 DODO & LAURA!
Nouveau Action Bronson extrait de son futur Blue Chips 7000.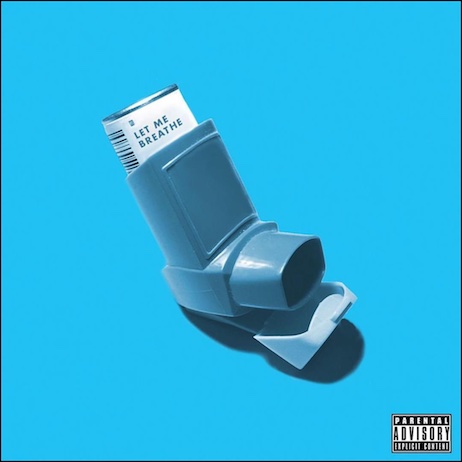 La Block Party de l'Impasse Saint-Sébastien est de retour !
On sort les platines sur le trottoir, les DJ prennent le contrôle du son et tout le monde danse dans la rue !
cette année c'est : NAMSS – MINA – NUFF CED – POSKA – MONSIEUR WILLY – ZIO JOHN & TREM qui seront aux commandes de cette Block Party placée sous le signe du vinyle !
Exceptionnellement cette année, la Block Party accueille le
KILL THE BEAT FREESTYLE CYPHER :
Kill The Beat Freestyle Cypher est directement inspiré par les freestyles organisés par TeamBackPack aux Etats-Unis.
Un micro de studio au centre de la scène, les mc's balanceront leur meilleures rimes et punchlines à tour de rôle, le tout ambiancé par SIMS que l'on ne présente plus.
Les inscriptions se feront sur la page facebook HipHopSupport l'organisateur de ce concept !
De 18h00 à 20h00 venez prendre l'apéro pendant le désormais célèbre STREET APERO : chacun est invité à ramener à boire et à manger et ON PARTAGE tous ensemble !
De 20h00 à 23h00 Venez faire votre shopping pendant le STREET SHOP!
RDV le 21 juin de 18h00 à 00h00
IMPASSE SAINT-SÉBASTIEN 75011 PARIS
L'impasse la plus groovy de Paris !
Accès métro : Richard Lenoir / Saint-Sébastien Froissart / Saint-Ambroise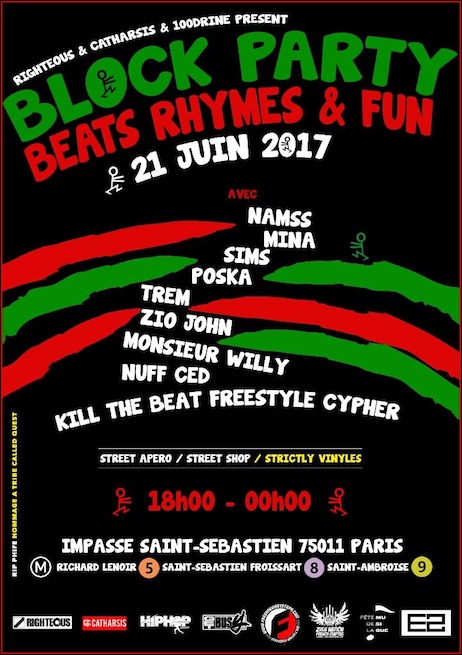 Nouveau clip extrait de Which Way Iz West le prochain album
de MC Eiht qui sortira le 30/06/17…GEAH!!!