Annoncé depuis pas mal de temps, le documentaire QUINCY
consacré à Quincy Jones sera diffusé sur le chaîne Netflix
à partir du 21 septembre. Inutile de vous préciser qu'il ne faudra
pas passer à côté de ce doc qui devrait nous permettre de connaitre
un peu mieux l'immense carrière de ce grand monsieur!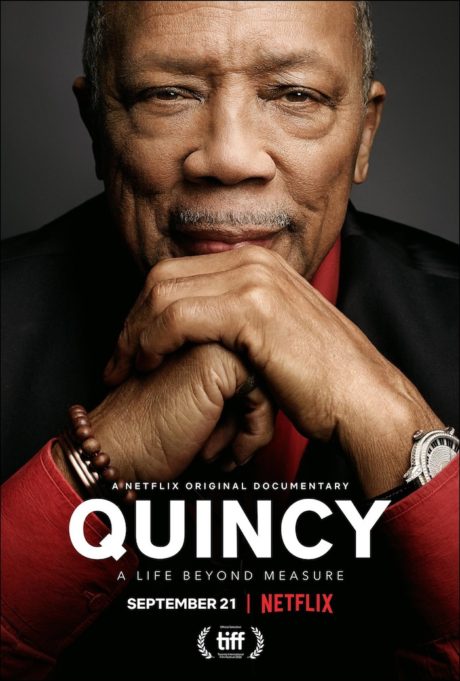 Si vous aviez besoin d'une bande-son pour vos vacances,
les gars de la Funky French League (Young Pulse & Uncle T)
vous propose un Summer Mix dans lequel on retrouve du
SOS Band, Platinum Hook, Switch, A Taste Of Honey, 
Rufus, Sylvester, Angela Bofill, Brainstorm etc…
A écouter sans modération à la plage ou au bord de la piscine
avec une boisson fraîche à la main et le casque vissé sur les oreilles!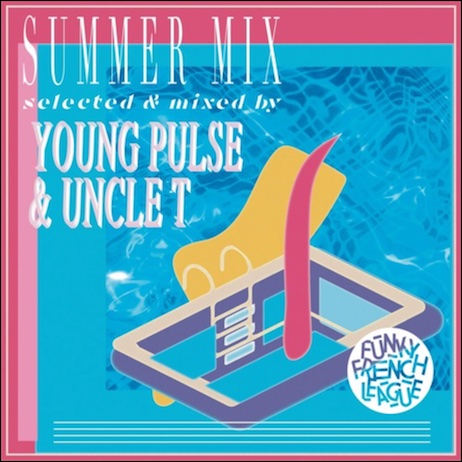 Tracklisting
1. Con Funk Shun « Curtain call » (Mercury / 1980)
2. Marcos Valle « Estrelar » (Som Livre / 1983)
3. Bee Gees « Boogie child » (RSO / 1976)
4. ADC Band « Roll with the punches » (Cottillion / 1982)
5. Alfonzo Surrett « Only a winner » (MCA / 1980)
6. The S.O.S Band « It's a long way to the top » (Tabu / 1981)
7. Elegance « Vacances j'oublie tout (Instrumental) » (Barclay / 1982)
8. Sheila & B Devotion « Your love is good » (Carrere / 1980)
9. Angela Bofill « Crazy for him » (Arista / 1983)
10. Change « Miracles » (Atlantic / 1981)
11. Ago « Good time » (FTM / 1982)
12. Contrast « Love fantasy » (DAS Records / 1984)
13. Moses Tyson jr « Stomp »
14. Mystic Merlin « Sixty thrills a minute » (Capitol /1981)
15. Platinum Hook « Standing on the verge » (Motown / 1978)
16. Brainstorm « Don't let me catch you with your groove down » (Tabu / 1979)
17. TTF (Today, Tomorrow, Forever) « It's a groove (keep on dancin') » (RSO / 1979)
18. Switch « We like to party…Come on » (Motown / 1979)
19. Clyde Alexander & Sanction « Got to get your love » (Heavenly Star / 1980)
20. Liquid Gold « Substitute » (Polo / 1980)
21. A Taste Of Honey « Ain't nothin' but a party » (Capitol / 1980)
22. Rufus « Dance with me » (ABC reds / 1975)
23. Taka Boom « Night dancing » (Ariola / 1979)
24. Shalamar « Girl » (Solar / 1979)
25. Kwick « Serious business » (EMI / 1980)
26. Michael Jackson « Working day and night » (Epic / 1979)
27. Lonnie Smith « Do it » (TK disco / 1979)
28. Sylvester « Grateful » (Fantasy / 1978)
29. Michael Henderson « In the summertime » (Buddah / 1979)
Très bonne nouvelle pour les amateurs de soul et de samples!
20 ans après la sortie du 1er volume, Uncle O sortira le 31/08
un 4ème épisode de sa série culte Shaolin Soul.
Shaolin Soul 4 sera dispo en Vinyl, CD & Digital
chez tous les bons disquaires de France.
A noter qu'un maxi 45-tours exclusif aux magasins FNAC
est proposé depuis le 15/06 avec en face A la version intégrale
du Float On de The Floaters  et en face B
le I've Got My Music de Marvin Gaye.
(source FunkU.fr)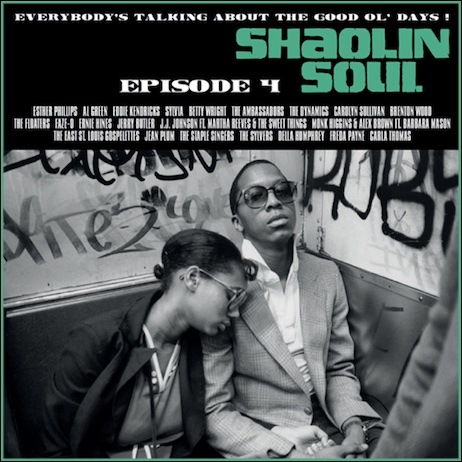 Tracklist :
 01 Esther Phillips – That's All Right With Me
02 Al Green – I Wish You Were Here
03 Eddie Kendricks – Intimate Friends
04 Sylvia – Sweet StuffShaolin Soul 4
05 Betty Wright – Girls Can't Do What The Guys Do
06 The Ambassadors – Ain't Got The Love Of One Girl (On My Mind)
07 The Dynamics – Get Myself High
08 Carolyn Sullivan – Dead !
09 Brenton Wood – Trouble
10 The Floaters – Float On
11 Faze-O – Riding High
12 Ernie Hines – Our Generation
13 Jerry Butler – I'm Your Mechanical Man
14 J.J. Johnson – Keep On Movin' (Vocals by Martha Reeves & The Sweet Things)
15 Monk Higgins & Alex Brown – A Good Man Is Gone (Vocals by Barbara Mason)
16 The East St. Louis Gospelettes – Have Mercy On Me
17 Jean Plum – Here I Go Again
18 The Staple Singers – Let's Do It Again
19 The Sylvers – Only One Can Win
20 Della Humphrey – Don't Make The Good Girls Go Bad
21 Freda Payne – I Get High (On Your Memory)
22 Carla Thomas – What The World Needs Now
En bonus un mix réalisé il y a quelques semaines par Uncle O
pour Hotel Radio Paris. (Thanks 2 Solo on this one!)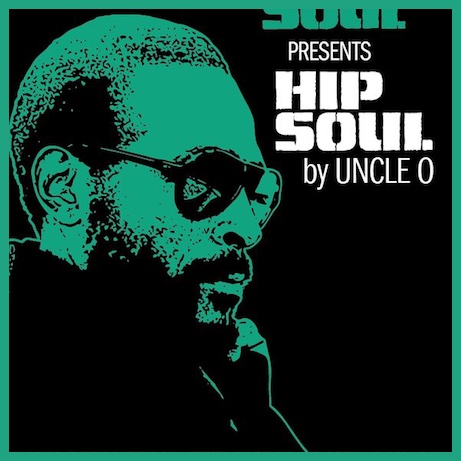 Quand le poto DJ Suspect décide de plonger ses mains
dans le catalogue du label Rocafort Records pour en extraire
60mn de soul/funk endiablé, ça donne cette mixtape
qui devrait faire kiffer tous les amateurs du genre!
Dispo en K7 limitée à 50 exemplaires sur Bandcamp.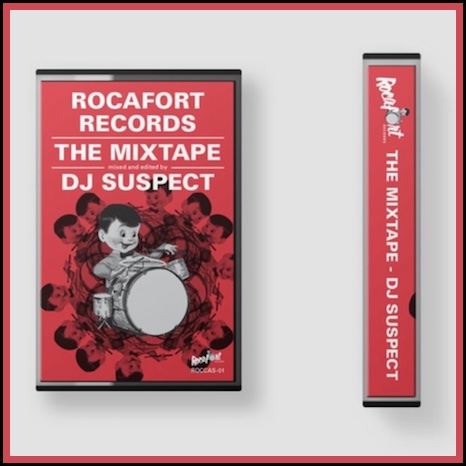 Le 01/12/17 sortira une édition « Deluxe » de l'album culte
Perfect Angel de Minnie Riperton sorti en 1974.
Cette édition comprendra 2 CDs complétée de 11 titres inédits.
Le 2ème CD intitulé A More Perfect Angel, proposera des versions
extended et alternatives de chaque titres de l'album dont un duo
inédit avec Stevie Wonder intitulé Take a Little Trip
ainsi qu'une version alternative du fameux Lovin' You.
En attendent l'arrivée de cette édition Deluxe voici en écoute
la version alternative de Lovin'You et le duo avec Stevie Wonder
Take A Little Trip…ENJOY!
En cette veille de jour férié, c'est pour nous un honneur que de recevoir en spécial guest DJ VADIM.
DJ Vаdim (BBE – Ninja Tune)
Est-ce bien nécessaire de présenter DJ VADIM !?
DJ/Producteur extrêmement prolifique, d'origine Russe qui ne cesse de repousser les frontières musicales.
Il a collaboré avec DJ Krush, Stevie Wonder, The Roots, Prince, Public Enemy, Dilated Peoples, Kraftwerk, Sly and the family stone, Fat Freddy's Drop, Super Furry Animals et Paul Weller entre autres…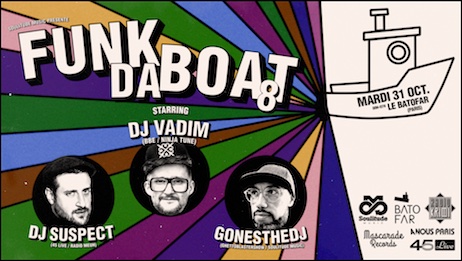 PLACES DISPO SUR DIGITICK.COM
 + D'INFOS SUR LE FACEBOOK EVENTS
Un peu comme DJ Shadow & Cut Chemist avec leur série Brainfreeze
les français Aeon Seven & DJ Suspect viennent de balancer un mix
à 4 platines ou ils ne jouent exclusivement que des 45T.
Le résultat n'a rien à envier aux américains et devrait combler
tous les amateurs de breakbeat funky!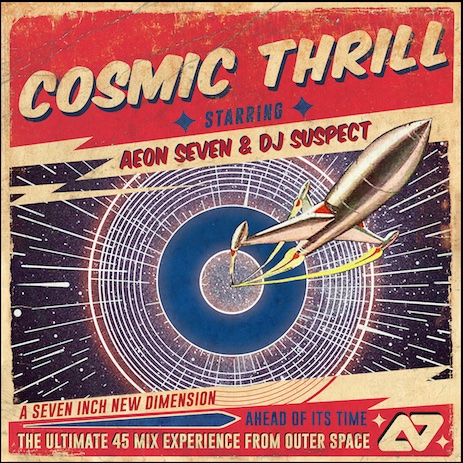 Ce vendredi nous recevons dans la seconde salle des Nuits Fauves, DJ Amir, moitié du célèbre duo de digger Kon & Amir. La poussière accumulée sous ses doigts se pèse au kilo et le nombre de disques achetés et écoutés par le monsieur donne le vertige. Collectionneur de disques depuis 1986, DJ depuis le début des années 2000, il a également été directeur artistique et responsable des ventes chez Fat Beats Distribution De 1997 à 2005.
Il sera accompagné par les crew parisiens
What The Funk Paris et Around The World 

Préventes Digitick juste pour la Room 2 : http://bit.ly/2fdINAN
Pour avoir accès à tout l'espace soit à cette soirée + Para One – All night long – cette prévente vous sera demandée >> http://bit.ly/2eusQaB
Préventes pour le Club = 9€ + frais de loc
Entrées sur place = 12 €
NUITS FAUVES : 32 QUAI D'AUSTERLITZ
METRO : GARE D'AUSTERLITZ OU GARE DE LYON
Hello tout le monde !
Vous avez été nombreux à la réclamer…
LA VOILA !
LA soirée REMINISCE revient le vendredi 23 septembre au BIZZ'ART pour les inconditionnels de musique NU SOUL, R&B ET NEW JACK .
Pour cette occasion DJ TREM, VENOM et DJ LOUD distilleront les incontournables du genre : Bobby Brown, SWV, Janet Jackson, Montell Jordan, Dwele, D'Angelo, Mary J Blige, Angie Stone, Aaliyah, Raheem Devaughn, Usher, Boyz II Men , Blackstreet , Donell Jones …
ARE YOU READY TO PARTY ?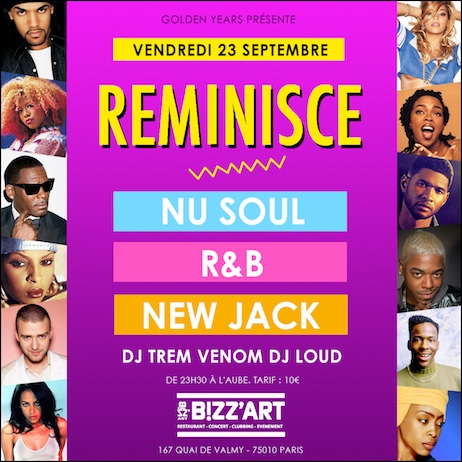 + D'INFOS SUR LE FACEBOOK EVENTS
Dj Psycut vient de balancer son dernier mix funk,
au programme plus d'1 heure de sélections qui devraient
ravir les kiffeurs de bon groove…parfait pour accompagner vos
vacances au soleil en sirotant un p'tit cocktail au bord de la piscine!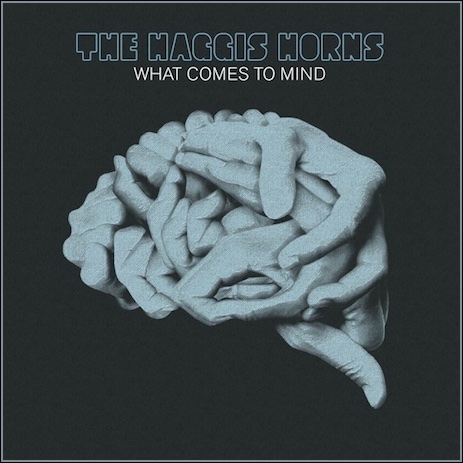 Nouveau Sharon Jones extrait de la Bande Originale du documentaire
Miss Sharon Jones qui revient sur le parcours de la chanteuse
et son combat face au cancer. La BOF sortira le 19/08
(dispo en précommande sur iTunes).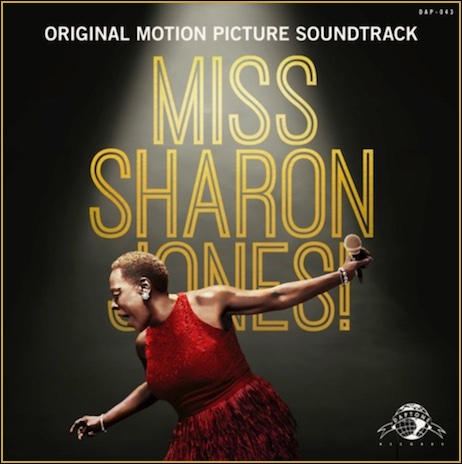 Si comme moi vous aviez apprécié leur taff sur l'album Elmatic 
de Elzhi, cette news devrait vous faire plaisir! Les gars du groupe de
Détroit Will Sessions viennent de créer leur label Sessions Sounds
sur lequel ils sortiront en 2017 leur 1er album avec le chanteur
Amp Fiddler. Pour nous faire patienter voici leur nouveau morceau!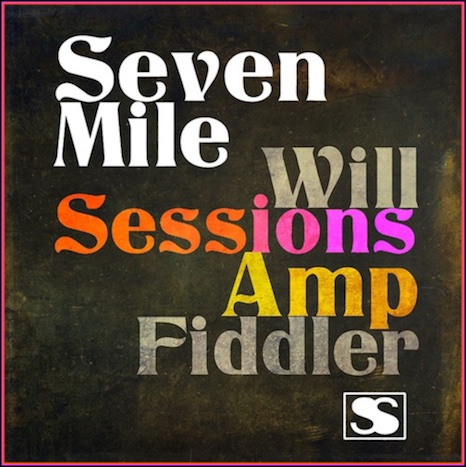 Le morceau The Realest qui réunissait Mobb Deep & Kool G Rap 
reste gravé dans nos tympans depuis 1999! Money Makin'Nique
a décidé de lui donner une seconde vie, c'est extrait de
son prochain album Bring Money Witchu.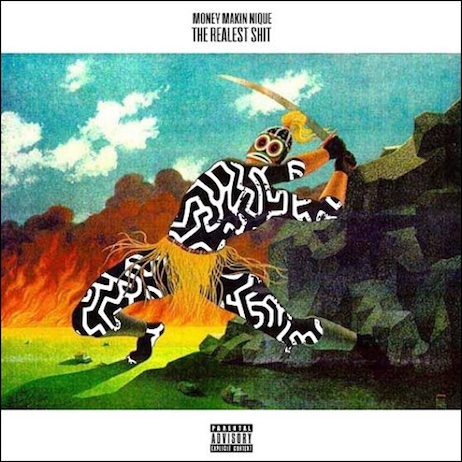 D.ORIGINAL!